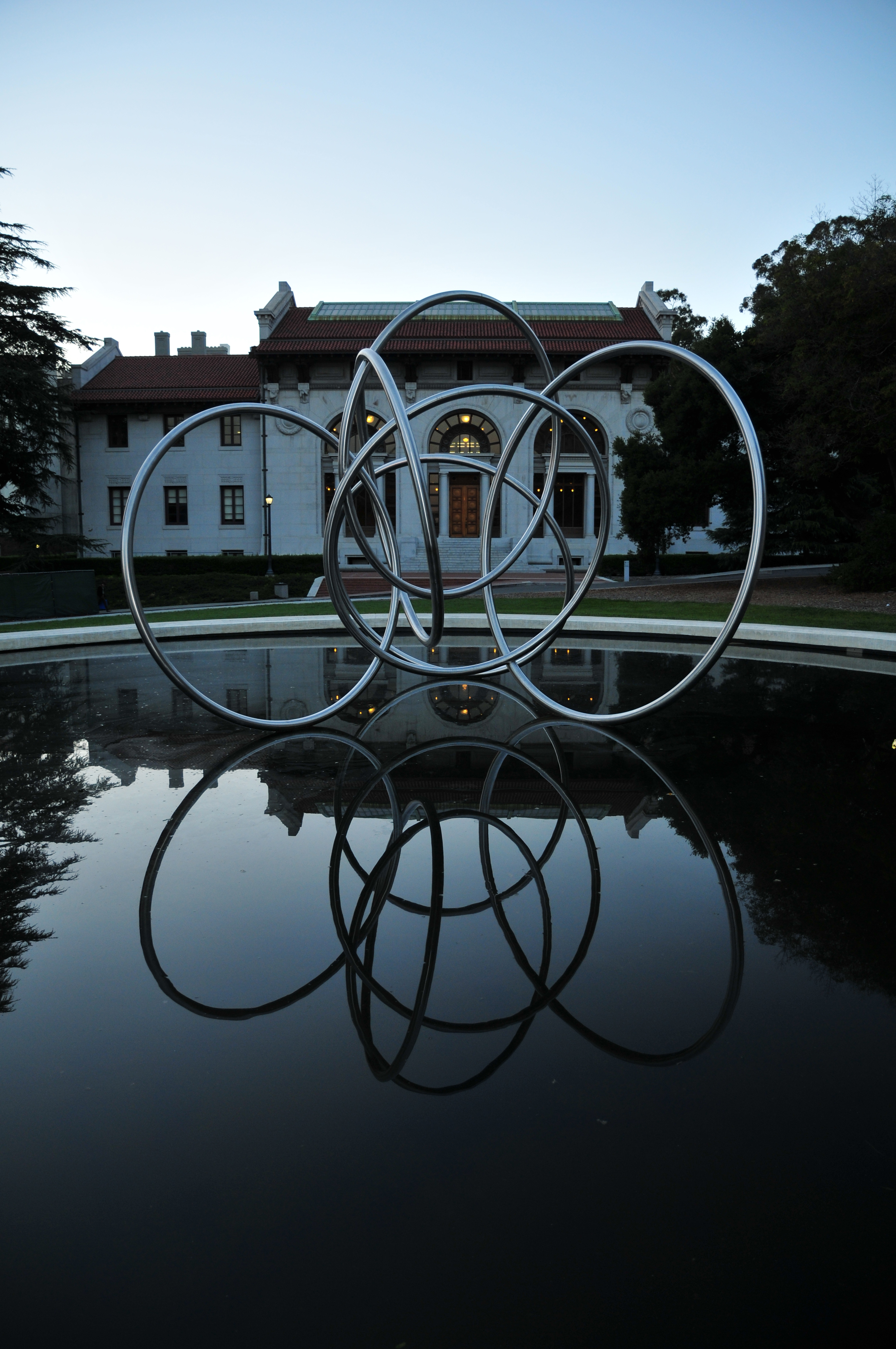 We often think of relationships as concentric circles, with ourselves in the center, our closest friends and family in the inner circle, and our acquaintances further out. In reality, these circles, like Beasley's sculpture, overlap, weaving in and out of one another as our lives expand, contract, and change direction. At Berkeley, that might look like a first-year undergraduate… who takes a class with a professor… whose graduate student researcher mentors the undergraduate… who then brings their newfound knowledge to an academic student group. Learning is no longer perceived as unidirectional, moving top down from faculty to student. It is a series of interconnected communities and opportunities.
Graduate students are at the center of this interconnectedness, working alongside faculty to drive research while inspiring undergraduates to pursue greater possibilities. Just as the sculpture would collapse if a ring was removed, Berkeley would not be the same without graduate students playing a core role in upholding our research and education ecosystem.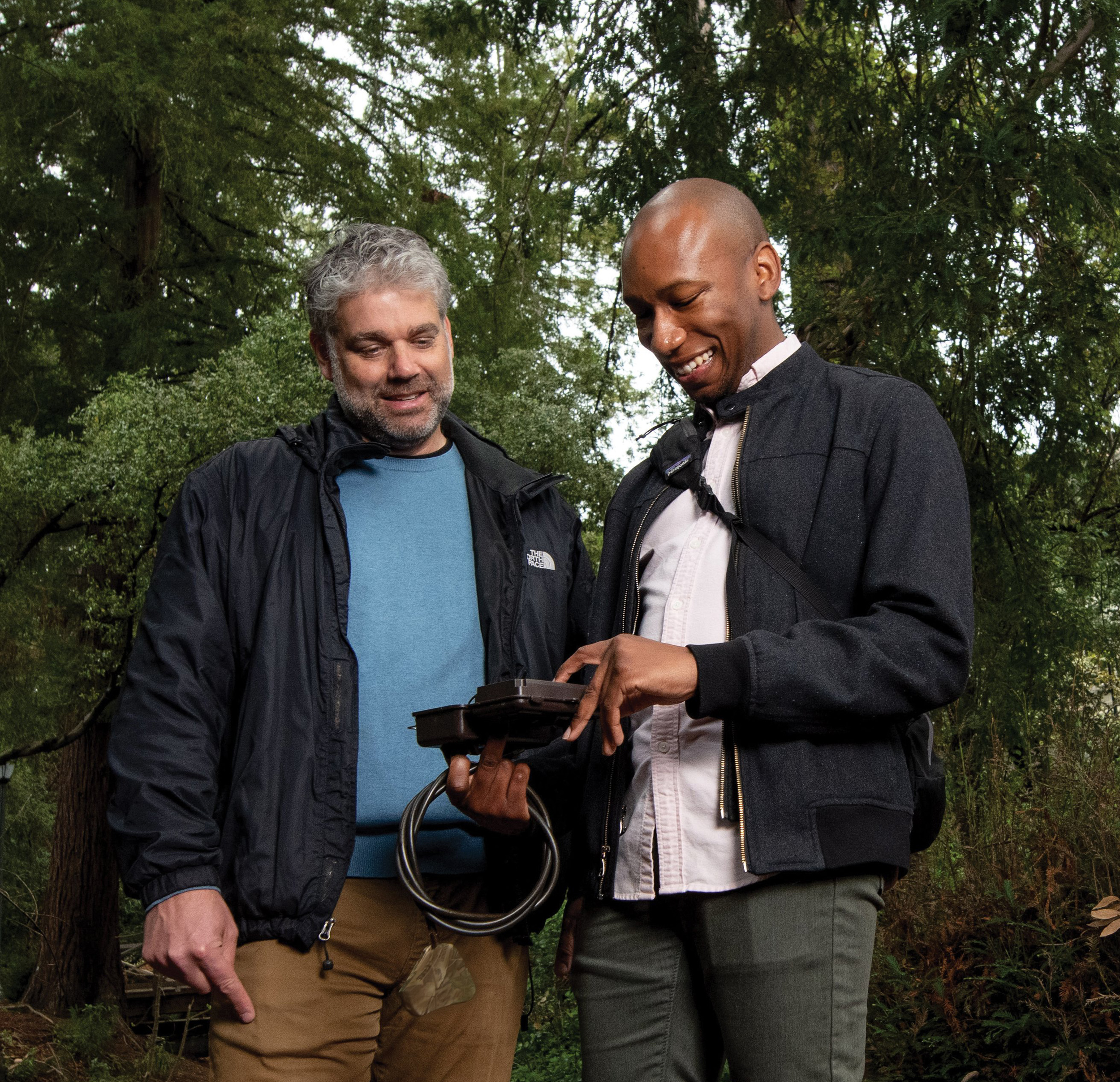 Turning love into action
Having grown up in California, Kendall Calhoun has "a lot of love for the state." When he started his Ph.D at Berkeley, he wanted to do something to understand and protect its wildlife.
Climate swings between precipitation and drought are not unusual for California, but these swings are growing increasingly more extreme. Torrential rains result in flooding, and the persistently parched earth is leading to bigger, more severe wildfires.
While the damage to humans is immediately clear following these devastating events, Calhoun, a student in environmental science, policy, and management, says the impacts on native wildlife largely remain a mystery. Using camera traps, acoustic and ultrasonic monitors, and GPS tracking, he is observing the response and potential recovery of mammals, birds, and other species.
"I hope to identify species that are potentially vulnerable to these events so that we can inform future conservation," says Calhoun, who has a Chancellor's Fellowship. He also aims to "identify ways we can use fire and land management to better create more resilient habitats and ecosystems."
Justin Brashares, who holds the George R. and Wilhelmina M. Goertz Distinguished Professorship for Wildlife Management, says Calhoun's work has implications beyond California. "A lot of the questions he's asking and the approaches he's using are much bigger than that and address how global change is going to change our planet."
As the scientific community scrambles to come up with ways to mitigate wildfires, Brashares sees Calhoun's work as part of an important tradition: "giving back to the people of California and to the world… specifically by engaging in science that has very meaningful applications to the challenges Californians and others are facing every day."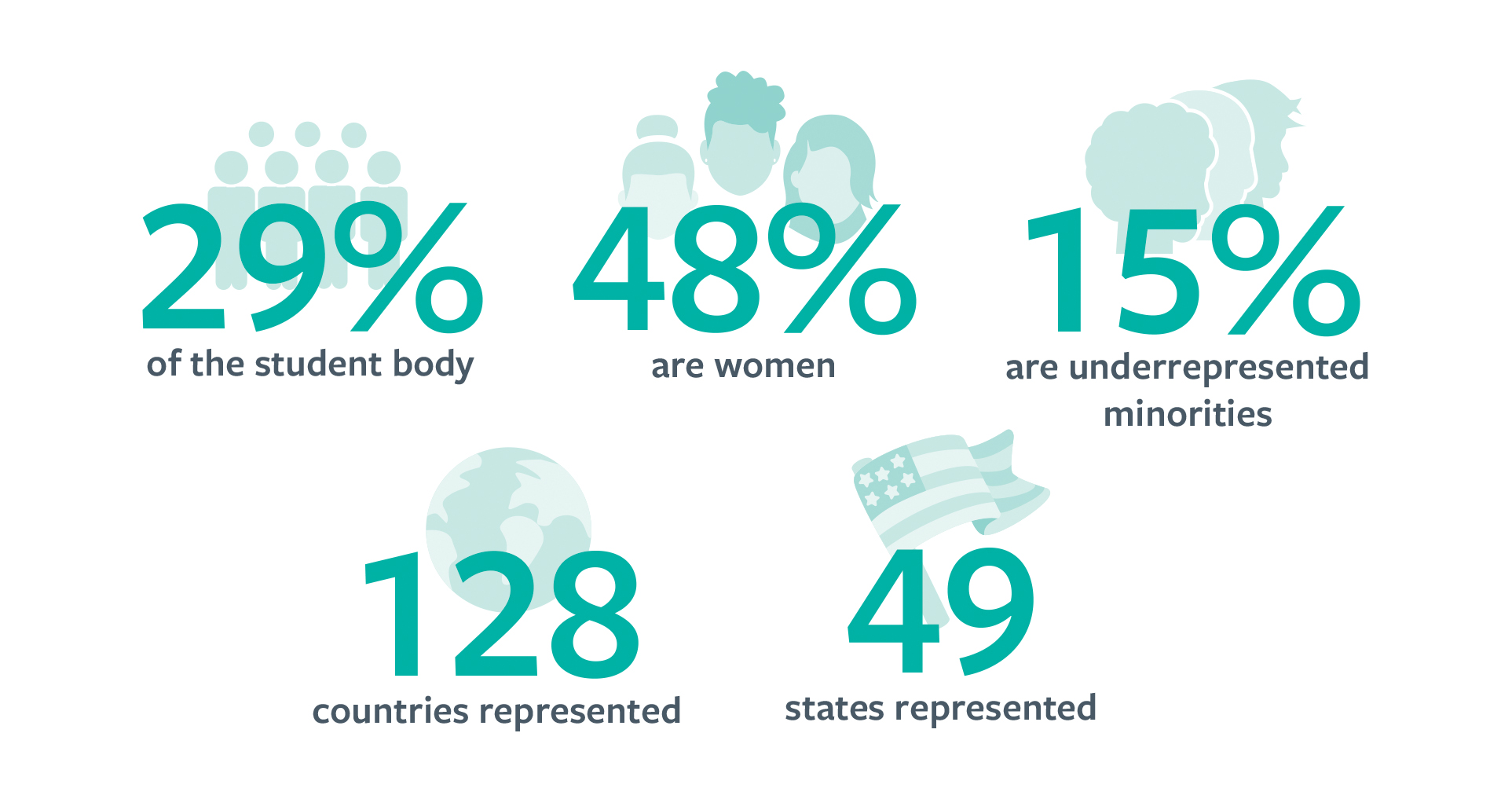 Our North Star for graduate students
Graduate students like Calhoun are at the fulcrum of Berkeley's public mission. They both contribute to and drive research, while mentoring undergraduates in their education and career goals and in connecting more fully with faculty. "They help me refine my presentation of material to undergraduates," says Jill Duerr Berrick, a professor at Berkeley Social Welfare. "Undergrads see graduate students as being closer to them in experience. I'm getting intel from them that I wouldn't get otherwise."
Competition for graduate students with the greatest potential is fierce, and we often cannot match the higher financial packages offered by many peer universities. Most graduate students also spend considerable time applying for grants and other support — time that could be spent advancing their research, studies, and dissertation.
We cannot afford to fall behind. This is why expanding funding for graduate fellowships, which typically support students' study, research, and living expenses, is essential to Berkeley's intellectual future and leadership in innovation and discovery.
"I feel so strongly about our graduate program that when my wife, who suffered with Parkinson's disease for 20 years, tragically died four years ago, I decided to turn my grief into something constructive by endowing a graduate fellowship in support of neurodegenerative disease." — Randy Schekman, Winner of the 2013 Nobel Prize in Physiology or Medicine and Professor of Molecular and Cell Biology
Establishing new graduate fellowships is a core priority of Berkeley's Light the Way campaign and the key to enabling emerging leaders to first choose Berkeley, then do their most creative work while here. When paired with faculty mentors, professional development, and other resources, fellowships do more than provide financial support. They boost students' whole being and enhance every aspect of the student experience.
Says Lisa García Bedolla, vice provost for graduate studies and dean of the Graduate Division, "Our North Star is ensuring all students have the support and mentorship they need to thrive at Berkeley."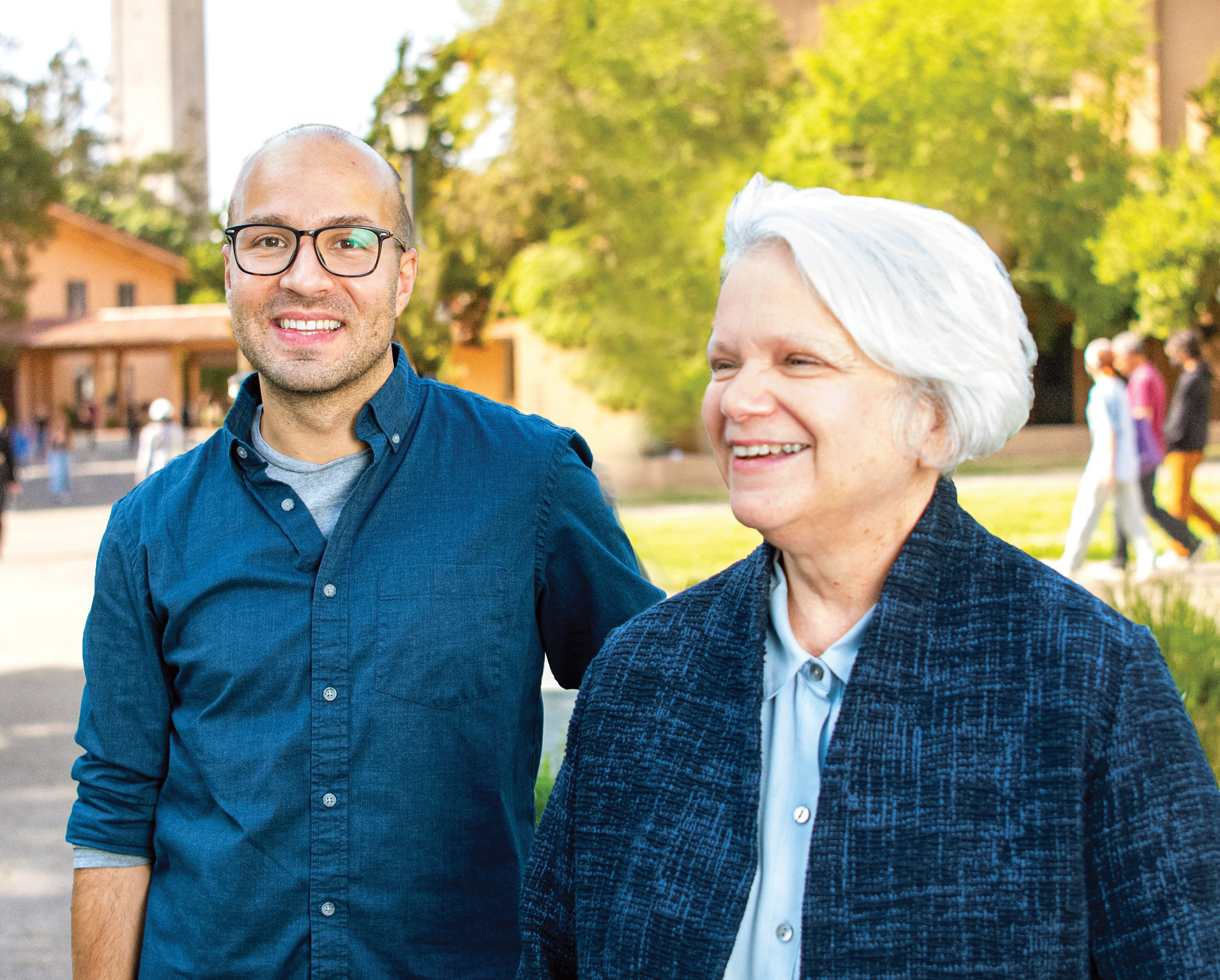 Mentoring tomorrow's intellectuals
What does the force of corporations in shaping American suburbs in the mid-20th century have to do with the reshaping of Spanish cities under Franco's authoritarian rule? A lot more than either Professor Louise Mozingo or graduate student Pol Fité Matamoros ever would have theorized had they not begun working closely together.
While Mozingo's work looks at the suburban ideal — e.g. buildings surrounded by landscape and the departure of elite workers and families from the city — Fité Matamoros examines how fascism gained purchase in transforming the landscape, organizations, and everyday lives of ordinary people. "They're both about how power structures shape economic investments and landscapes around certain sets of social and economic goals," says Mozingo, chair of landscape architecture and environmental planning.
Mozingo says graduate students shake her out of complacency. "It's interesting to see the way you approach your own work and then see how someone elaborates on it and takes it in a new direction," she says. "Then my work becomes better."
That generosity of spirit applies to financial support as well. When Mozingo was awarded the Richard and Rhoda Goldman Distinguished Chair in Undergraduate and Interdisciplinary Studies, she used some of the funds to support graduate students in the College of Environmental Design, including Fité Matamoros. "I am deeply interested in mentoring the next generation of intellectuals in my field and related fields," she says.
She says a big part of that support is understanding how they are in the world and want to be in the world. "I'm interested in my grad students totally outdoing me, being way smarter, way better, way more accomplished," she says.
Fité Matamoros, who is from Spain, says that besides easing the burdensome cost of living in the Bay Area, his support allowed him to choose multidisciplinary work. "If you're out there trying to learn different methods and engage with different disciplines and different bodies of literature, it requires a lot of work and time and you need to be able to focus on your own learning experience."
In other words, for Fité Matamoros and other graduate students, fellowship support makes the seemingly impossible possible.

The best is yet to come
Nearly four decades after Steven Sidener '82 earned his economics degree, his legacy will impact generations of graduate students. Shortly after Sidener passed away in 2020, the Department of Economics received a $10.5 million estate gift to establish the Steven Sidener Graduate Support Fund.
"To the best of my knowledge, this is the largest single gift the department has ever received. This funding will allow us to be more competitive with other top-ranked schools to recruit the very best students while continuing to support our current Ph.D. student body," says economics chair Shachar Kariv.
After studying at a junior college while working to save money, Sidener transferred to Berkeley. "It was there that he found his place in the world," says Lynda Kanzler, his friend and estate executor. "It was Steve's hope that his generous gift would allow other promising college students to be able to attend Cal and, in particular, the Department of Economics."
"Economics is one of the largest, fastest-growing majors on campus, and the research conducted by our Ph.D. students broadens our understanding of decision-making, institutions, and markets," says Kariv. Sidener's gift will help the department maintain its standing as a premier study and research center.
After attending the department's centennial event in 2002, Sidener said, "The best is yet to come." Indeed, thanks to the new fund, future graduate students will continue to have access to an enriching academic experience.