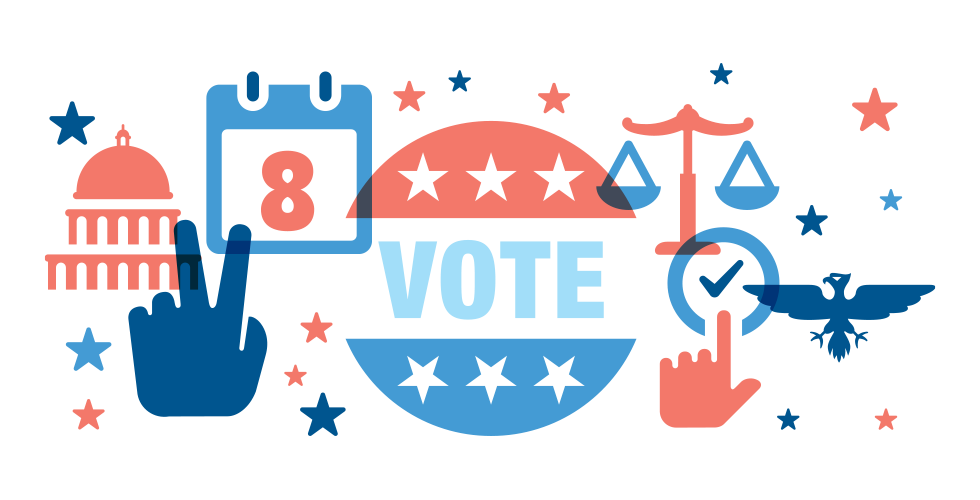 In a democratic society, our vote is our voice, a chance to choose our leaders and influence the issues that affect our lives and towns. To that end, electoral systems should be free, fair, and accessible.
But recent elections have bred dysfunction — from faulty machines and long lines to corrupt financing and questionable voting restrictions. These problems serve as a wake-up call to protect the integrity of elections and restore confidence among voters.
With the 2016 election — arguably America's wildest one yet — right around the corner, this issue of The Promise of Berkeley shares stories about people who are seeking insights and answers to improving the election process. Students who are following their Freedom Summer forebears to empower voters in North Carolina. Professors researching different factors that influence for whom and how we vote. An alumna who prevails over the nonstop news cycle to bring NPR listeners daily coverage from the campaign trail.
Though a perfect democracy may be a myth, Berkeley is doing what it can to bring election fairness and effectiveness to the forefront, while fulfilling its public mission to help prepare and engage the citizens of our society.
Returning to the frontlines

At a time when African Americans were barred from the polls, Berkeley students joined other students and activists from around the country to promote and expand voting rights in Mississippi. That effort, the Freedom Summer of 1964, remains an iconic moment in the Civil Rights Movement, as well as a spark that ignited the Free Speech Movement at Berkeley later that year. Fast forward about 50 years, and history seems to be repeating itself.
"The right to vote is at the heart of democracy."
Since 2010, North Carolina has enacted a series of laws that have restricted access to the polls, such as eliminating same- day registration and reducing the early voting period. While these laws are being challenged in the courts, about 10 Berkeley students will head to North Carolina this summer to participate in community service and collaborate with local organizations on voter education and outreach.
"The right to vote is at the heart of democracy," says Sandra Bass, director of the Public Service Center, which is sponsoring the trip. "Protecting this right is essential to inclusive and representative governance, so we're excited to support community leaders who are mobilizing to ensure that all North Carolinians have access to the ballot."
Upon the students' return, they'll share their experiences to encourage and inspire others to get involved. Like their forebears of the first Freedom Summer, these volunteers are turning their ideals into action, learning from the frontlines of the ongoing struggle for equality.
From Cal to the capital

Cal in the Capital has placed more than 3,500 summer interns in more than 400 D.C. organizations.
While studying social work at Berkeley, U.S. Representative Barbara Lee M.S.W. '75 interned in the office of then-Representative Ron Dellums, kickstarting a career in politics that led her to Congress in 1998. She credits the program that sent her to Washington, Cal in the Capital (CITC), with changing her life.
Believed to be the oldest internship program in Washington, CITC celebrated its 50th anniversary last October. Since its inception, it has placed more than 3,500 summer interns in more than 400 government agencies, nonprofits, think tanks, and other D.C. organizations. Together these interns have provided an estimated 1.6 million hours of public service.
J. Michael McGinnis '66, a health policy leader through four presidential administrations and the Leonard D. Schaeffer Executive Officer of the National Academy of Medicine, founded CITC as an undergraduate.
"When I was a student, the East Coast was a foreign country. A number of my fellow political science classmates were interested in working in D.C., and I decided to broker the connections," says McGinnis.
He remains an active supporter today. He and his wife host a picnic for the interns every summer.
Though the emphasis has shifted from interning with Congress to landing a spot in interest groups or nongovernmental agencies, the high caliber of the students and their dedication to public service and government remain.
"Many of them come back to D.C. to stay," says McGinnis.
Covering campaigns: A reporter's perspective

Tamara Keith '99, M.S.J. '01, a White House correspondent for National Public Radio, has covered a wide range of stories, from business to natural disasters to politics. She first reported on presidential campaigns in 2000. She majored in philosophy as an undergraduate and, at age 19, became the youngest enrollee in the Graduate School of Journalism. Keith took time off the trail to share her insights and memories.
"Majoring in philosophy helped me break down arguments and think about carefully formulating questions. This skill works for keying in on what a politician isn't saying."
How is covering the 2016 campaign different than when you first started?
In 2004, I was a local reporter for WOSU in Columbus, Ohio, and for a weekend, I followed the Kerry campaign on a bus tour. I remember going into a filing center and being amazed that all of the national press were using Wi-Fi. Wi-Fi! It was cutting-edge technology. My laptop didn't have that capability.
Now we don't need filing centers. I'm filing radio pieces and going live from moving busses and airplanes. I can record my voice tracks into my iPhone and upload it in a few seconds.
How has media coverage changed over the last few campaigns?
Things like Twitter and even Snapchat have changed the pace of the news cycle to the point where there simply is no downtime for the candidates or the people following them. It means things that would have gone virtually unnoticed before can blow up into full-on scandals in minutes.
How did Berkeley prepare you for this work?
In both undergrad and grad school, I was also working nearly full time and didn't have much time to put things off. I developed this helpful but unusual habit of not procrastinating that has served me well.
Majoring in philosophy helped me break down arguments and think about carefully formulating questions. This skill works for keying in on what a politician isn't saying.
The first class we took in grad school was J-200, and our professor required us to file a story on deadline every day… at least. Now, covering the White House and campaign, that's essentially my life. I can't think of a better preparation. I also had the best political reporting professor a girl could ask for.
Tell us about a memorable campaign moment.
It's kind of a blur, but in terms of daily election coverage, I am most proud of the story I did last summer in Missouri. Hillary Clinton was speaking at a church near Ferguson, and in the midst of her prepared remarks, she said, "All lives matter" — a phrase critics use of the Black Lives Matter movement. While she said this without malice, it upset folks who felt like she just didn't get it and wondered why she would use a phrase meant to undermine the movement. It was a case of growing pains for a candidate trying to get right with an important political force.
There are also a lot of times when I am completely exhausted. I've been in four states in two days and yet somehow, when I sit down at the microphone, I'm coherent and even happy with the reporting I'm able to share with our listeners. It's a small thing, but it's invigorating and semi-miraculous. And in those moments it's all worth it.
Voters of color: High-tech or high-touch?

Candidates hoping to engage voters of color can keep their emojis and hashtags — or at least pick up the phone once in a while.
A recent Berkeley study says old-fashioned tactics, such as door-to-door canvassing and phone banking, are crucial to mobilizing California's diverse electorate. The findings, headed by Lisa García Bedolla, a professor in the Graduate School of Education and political science department, could have powerful implications for future elections.
Technology, the team found, isn't always effective on its own. Texting has an inconsistent impact with voters of color, and social media failed to increase Latino and youth turnout. The report stressed the importance of outreach that is both culturally competent and contextually appropriate: New technologies can be layered with more personal approaches tailored to different audiences, and must be constantly tested and updated.
García Bedolla and her coauthors concluded that finding the most effective strategies for moving voters of color to the polls "is essential for California's electorate to reflect its population." Berkeley's Signatures Innovation Fellows Program agrees: Just before press time, García Bedolla was selected as a 2016–17 fellow and received funds to create a startup that will provide data and technical support to different voter and civic engagement entities across California
Do voters prefer well-behaved women?

The presidential nomination bid of Hillary Clinton may be grabbing headlines, but the numbers tell a different story: Women hold just 19 percent of Congressional seats and 24 percent of elected state legislative offices, and no woman has yet shattered the Oval Office's glass ceiling. Thanks to Berkeley political science graduate student Rachel Bernhard M.A. '14, Ph.D. '18, new information may help female candidates at any level understand why.
According to Bernhard, liberal and conservative voters use gender stereotypes quite differently from one another. Her research explores responses to hypothetical expressions of sex and gender — e.g. photos of candidates in pink or blue shirts, biographies that included Little League coach or literacy program volunteer — and examines how those responses vary with American voter ideology.
Bernhard finds that not only do conservative voters strongly prefer political candidates who are masculine, male, or both, but the more conservative they are, the stronger their preferences. Women and more feminine candidates fare just fine with a strongly liberal electorate. It is not yet clear whether this difference is due to attitudes about the proper roles for women and men or about voters' preferences for masculinity in leadership.
Bernhard cautions that more work is needed to understand voter behavior, and that stereotyping should not be seen as inherently negative, since all societies segregate gender roles based on sex. Rather, stereotyping is a process of categorization and organization.
"The takeaway," she says, "is the information people think is relevant to choosing a good leader is more complicated than anyone realized."
Using technology to gather voter voices

Can technology increase public engagement by tapping the collective intelligence of voters? Yes, according to the California Report Card (CRC), a mobile-friendly tool created in 2014 as an alternative to opinion surveys and social media channels often dominated by partisans.
The CRC invites California voters to grade issues facing the state, as well as suggest emerging issues. Since its launch, more than 22,000 people in all 58 counties have assigned grades to what they think is important.
"If you don't have active citizen engagement, you're not a highly functioning or a real democracy."
Developed by Berkeley's Center for Information Technology Research in the Interest of Society (CITRIS) and the office of Lt. Governor Gavin Newsom, the CRC uses the latest IT and mobile technology to connect constituents with state leaders and build new bridges between Spanish- and English-speaking communities. Notably, the CRC rapidly translates between English and Spanish and seeks to reach the 30 percent of residents who speak Spanish at home.
"If you don't have active citizen engagement, you're not a highly functioning or a real democracy," says Lt. Gov. Newsom in a CRC video. "A democracy is only as good as its active participants, and it's something I think technology can substantially aid us in once again rediscovering."
When the first report card revealed statewide concern on disaster preparedness, CITRIS responded with QuakeCAFE, a new platform that allows people to assess their own preparedness. It also enables you to rate ideas on how the state can help people get ready for a major earthquake through education, incentives, inspections, and other areas.
Visit californiareportcard.org to grade timely issues.
The California Report Card (based on 50,000 grades)
Affordability of higher education: C-
Affordable Care Act: B
Disaster preparedness: B
Environment: B
Housing affordability: C+
Infrastructure: C
Jobs: B
Taxes: B
Voting with your feelings
In modern politics, do personalities matter more than platforms? Jack Glaser, a professor and associate dean at Berkeley's Goldman School of Public Policy, has studied this question for years. Here he describes the interplay between how candidates make us feel and how we vote.
The candidate who's best at playing upon the emotions of voters will tend to prevail.
How much of our decision making as voters relates to emotion versus logical thinking?
It is relatively small compared to party identification and ideology. That said, emotion will be more influential in primary elections, whereas party identification is held constant — the candidate who's best at playing upon the emotions of voters will tend to prevail. In either case, voter decision making (like most decision making) is usually based on shortcuts, and rarely based on a thorough, careful consideration of candidates' positions and qualities.
Are some candidates better than others at leveraging emotion to connect with voters?
This has to be the case. I think the evidence is mostly anecdotal, but it is compelling. For example, Ronald Reagan really knew how to emotionally connect with his audiences, and it is probably not a coincidence that he had been a professional actor. Bill Clinton knew how to say, "I feel your pain."
Regarding the current election, I've heard a compelling analysis that points out that Donald Trump is primarily an entertainer, having been on his reality show for so long. He does seem to keep people's attention and entertain them, and clearly leverages anger and fear effectively, as well as hope. In fact, contained in his "Make America Great Again" slogan is the full emotional spectrum, because it implies that America has fallen (fear and anger) but promises greatness (hope). None of the other candidates is nearly as effective on an emotional level.
Voting with your roots
Associate professor Laura Stoker has learned that voting behavior is shaped by how and when voters are raised as much as by their own individual ideals. The bulk of her work focuses on political socialization — how political orientations develop in childhood and change, or solidify, over one's lifespan.
"I look at the parents' partisan and ideological leanings, and if the children pick them up," says Stoker, who teaches a political psychology course in the College of Letters & Science. "If you have a fairly engaged political family, your political identity starts to form in the pre-adult years."
Stoker's research also points to another milestone on the voter development path: the first election a voter encounters as an adult. "If the tides of the time are waxing one way or another, then the young people coming into the electorate tend to reflect those partisan tendencies," she says. "Young people whose first election was during the Reagan period were more likely to eventually identify and vote as Republican. Similarly, there's an expectation that young people who came into the electorate in 2008 are more likely to vote Democrat, and then identify as and stay Democrats."
Less common now, Stoker says, are voters with bipartisan understanding, which she points out occurred more frequently among voters in the 1970s and 80s. "There's more antipathy for the opposing party on the part of ordinary voters," she says. "Today there's strong partisanship in the electorate — and there's nothing more important to voting than partisan identity."
Vote once, count twice

There's no perfect way to count votes. "Hanging chads," machine failures, and voter fraud are among many recent obstacles that have made it tough to confirm election results. But Philip Stark, associate dean of mathematical and physical sciences and professor of statistics, has developed a pioneering approach that's ensuring the process is accurate.
In 1965, California passed a law that mandated audits before verifying election results. But it only required that 1 percent of ballots be counted by hand and didn't offer solutions to problems that may arise. Stark's system, called a risk-limiting audit, uses statistics to prove that the announced winners really won, regardless of how close the race was.
"It doesn't matter who votes. What matters is who counts the votes." — Joseph Stalin
When Stark first started thinking about this, he realized the important question was not how many ballots to audit — but rather when to stop.
"That insight was key," Stark says. "A risk-limiting audit has a big chance of correcting a faulty outcome, but inspects as few ballots as possible when the outcome is right to keep costs down. It stops only when there's strong evidence that counting every ballot wouldn't change who won."
Stark's work has led to new laws in California and Colorado, and his methods have been tested in about 20 counties in California, Colorado, and Ohio. He is also helping Travis County, Texas, develop a system that would let voters confirm their votes were included correctly in the total.
Joseph Stalin said, "It doesn't matter who votes. What matters is who counts the votes." Stark's work increases election trustworthiness by ensuring that votes are counted as cast.
Students tapped to rewrite complex law
"A person, other than a small contributor committee or political party committee, may not make to any candidate for elective state office other than a candidate for statewide elective office, and a candidate for elective state office other than a candidate for statewide elective office may not accept from a person, any contribution totaling more than three thousand dollars per election."… Huh?
California's Political Reform Act (PRA) is a national model for campaign finance regulation. But as this excerpt demonstrates, it's also cumbersome, confusing, and sometimes contradictory.
This spring, California's Fair Political Practices Commission (FPPC) recruited a team of UC Berkeley and UC Davis law students to tackle the herculean task of rewriting the law so that anyone can understand it. The FPPC hopes a simplified act will encourage citizens to run for office, rather than run from its complexity.
Under the guidance of David Carrillo, executive director of Berkeley Law's California Constitution Center, the students are focused on clarifying the act's language and organization. The project is a unique opportunity to gain professional-level experience with statutory code, government agencies, and collaboration.
"Hearing everyone's perspective and seeing where people have similar ideas or come up with different ways to approach an issue shows the benefits of working in a team," says Berkeley Law's Anna Tsiotsias J.D. '17.
Carrillo says that while the revision could get derailed on the way to the governor's desk, that's not to say it isn't worth trying. If some version of the students' work is enacted into law, they could have a real-world impact on California's democratic process.