A physical Gateway: the focal point at the north edge of campus to welcome our community. An intellectual Gateway: the expansive connector between diverse voices, perspectives, and disciplines — uniting computing and data science with human perspective and purpose.
Within this space, academic and cognitive boundaries yield to imagination and the collective commitment of hundreds of faculty, students, and staff to form a uniquely collaborative culture.
The Gateway will be home to the College of Computing, Data Science, and Society (CDSS), a new entity that reimagines academic collaboration and co-creation to tackle the technical, scientific, social, and human dimensions of the most urgent challenges. The college is building platforms to accelerate scalable solutions in biomedicine and human health, climate and sustainability, and human welfare and social justice.
"It is time for students and faculty to work with people on the ground — public health experts, local environmental officials, criminal defense attorneys — to build a society which embodies our values and realizes our goals. There is no place like Berkeley to lead the way." — Jennifer Chayes, associate provost for CDSS and dean of the School of Information 
The Gateway at a Glance
•  367,270 square feet, opening in 2025–26 academic year
•  Prominent location of arrival and entry to the campus
•  Collaborative space for approximately 1,325 faculty, students, researchers, and staff
•  Draws diverse scholars from multiple disciplines to catalyze discovery and impact
•  Interconnected work and meeting spaces encourage exploration and engagement
•  Built-in flexibility for future needs of fast-evolving fields
The key to making real progress is to create a team culture for faculty and student researchers in a shared space that fuels inspiration, imagination, and innovation. That's why completing the Gateway is currently the highest priority of Light the Way: The Campaign for Berkeley. An anonymous donor's lead gift of $252 million — plus three gifts of $25 million each, two of which are from current faculty — have provided a strong foundation on which Berkeley can build.
Renowned architectural firm Weiss/Manfredi is leading the Gateway's visionary design with Gensler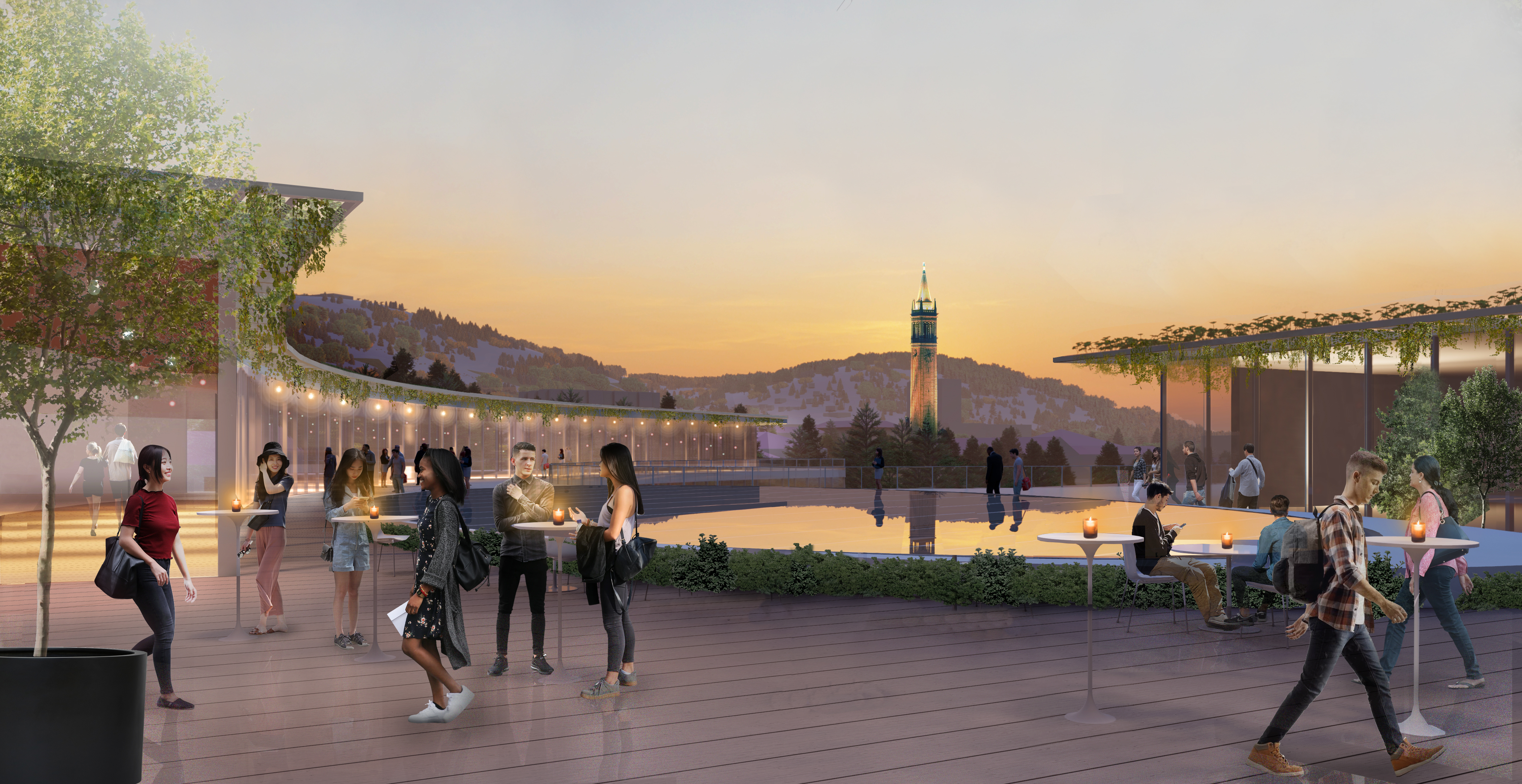 As the first campus building designed for a post-pandemic world, the Gateway will model novel and flexible ways of working, learning, and interacting. Connections and fortuitous "collisions" between individuals and ideas are crucial to innovation, so the Gateway's interior features an interconnected landscape that encourages exploration and interaction. Extended sightlines and natural light-filled corridors create connection across and between floors. Communal gathering centers link distinct neighborhoods and districts in a continuous flow to facilitate cross-fertilization of ideas and insights.
This is the Gateway.