With a visionary investment connecting life sciences to entrepreneurship, Mark and Stephanie Robinson are fast tracking innovation at UC Berkeley. The Robinsons have given a total of $10 million to support bio-entrepreneurship at Berkeley, creating resources for undergraduates, graduate students, and faculty that leverage our university's edge in basic science research while preparing the next generation of business leaders. The Robinsons recently provided generous gifts to sustain a program for enterprising undergraduates to build skills that will make them equally comfortable in the lab and the boardroom. Taking a comprehensive approach to this important initiative to interconnect science and business, the Robinsons created a foundational chair for a faculty director to oversee the program. Further, they laid the groundwork for a new bio-entrepreneurship center that will serve Berkeley's community of innovators at all stages of their careers, facilitating everything from education to practice to company creation.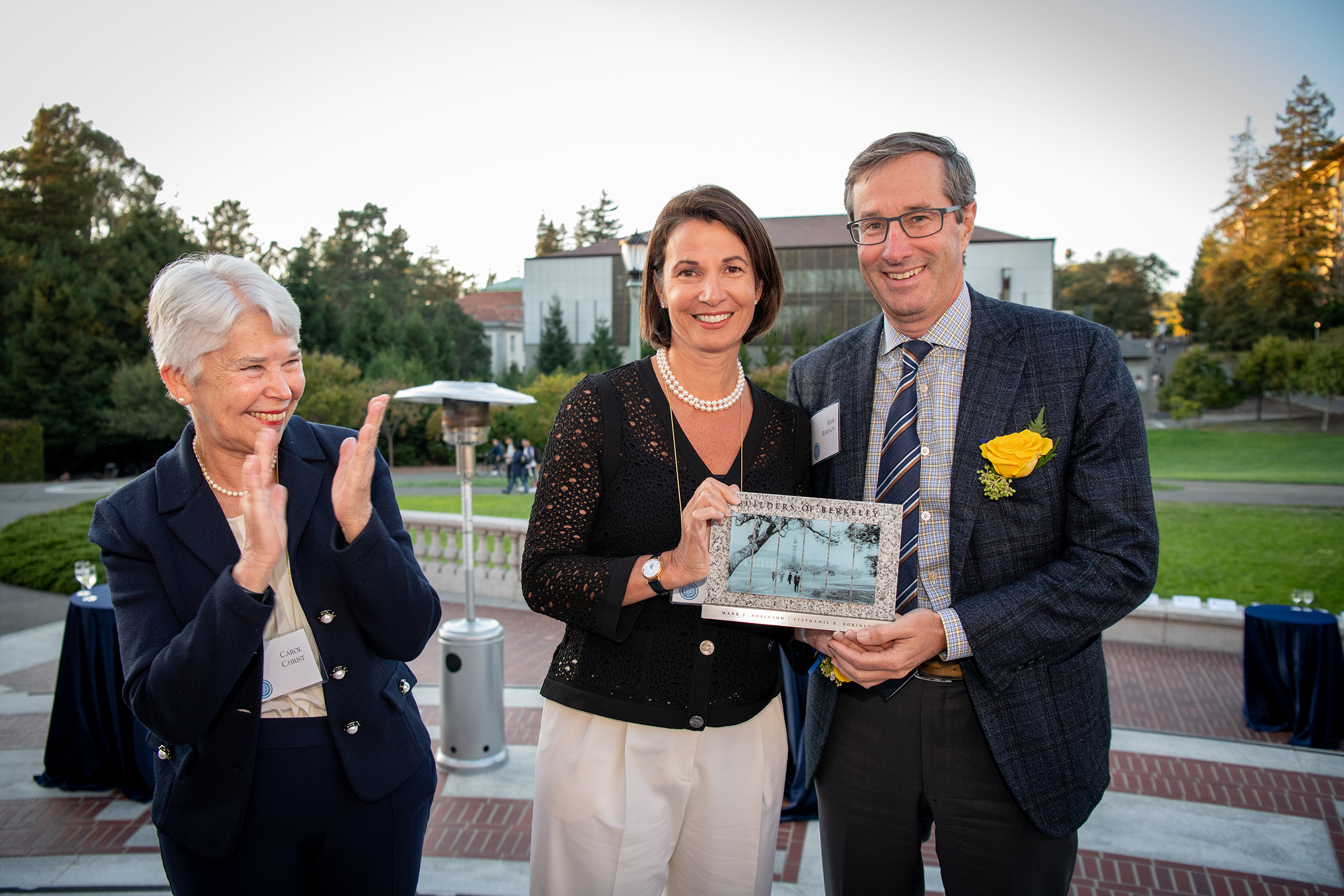 A partner at Centerview Partners, an independent investment banking firm, Mark Robinson has built a career advising many of the most prominent companies in the healthcare industry, including Pharmacyclics, Onyx, and Immunomedics. He majored in history and political science at Berkeley and earned his M.B.A. at Harvard. Stephanie graduated from Berkeley with a degree in economics. She holds an M.B.A and a J.D. from Harvard, and has worked as an investment banker in areas related to the life sciences.
Mark Robinson's involvement at Berkeley includes serving as co-chair on the advisory board to the College of Letters & Science and as a trustee for the UC Berkeley Foundation. Quick to acknowledge that he is not a scientist, Robinson has built a career that has given him a front row seat to some vitally important shifts in medicine and human health.
"I've seen incredible advances," he says, listing some of the many innovations in healthcare since the 1990s, when he began building his career. Choosing healthcare as his career direction enabled him to be present for significant scientific breakthroughs and dramatic treatment advancements for hepatitis C, cancer, and rare diseases.
The Robinsons' recent commitment is intended to do three things:
Sustain the Robinson Life Sciences Business and Entrepreneurship Program (LSBE) for undergraduates, which enables students to pursue concurrent degrees in the biological sciences and business.
Provide a scholarship aimed at drawing more African American and Latinx students to that program.
Create the Biotechnology Entrepreneurship Center, where early career scientists can fast track ideas and company formation. The center will also be supported with a gift from David Kirn '85 and Kristin Ahlquist.
Inspired by the Vagelos program at the University of Pennsylvania, Robinson made this commitment to creating the second program in the country — and the only one in the West — that enables students to get concurrent bachelor's degrees in the life sciences and in business.
"I view this investment as a way of giving back that has a profound multiplier effect," says Robinson '88, emphasizing the university's location near the heart of the biotech industry as well as its reputation for path-breaking research. "Berkeley has a clear structural advantage to leverage."
The Robinsons seek to ensure that Berkeley grads from all backgrounds step up as leaders in the life sciences and healthcare. By providing a scholarship to enhance diversity and inclusivity, the Robinsons hope to draw students who are often underrepresented in the sciences and business leadership to the program. Ultimately, the program will grow to 25 graduates every year who will build careers that combine business with life science.
"The internships in the Robinson Life Sciences Business and Entrepreneurship Program are the key. Students do one each in science and business," he says, reiterating one of the program's founding tenets — that students should have hands-on experience that helps them understand the full cycle of the development of critical technologies. Robinson's keen desire to smooth the path from the lab bench to the marketplace also informed his decision to fund, with his friend David Kirn, the Biotechnology Entrepreneurship Center that will connect early career scientists with business opportunities. Kirn, an M.D., an adjunct professor of bioengineering and molecular and cell biology, and a serial entrepreneur and executive in biotechnology, is the perfect partner for building this important center.
"I feel there needs to be a node of activity on the Berkeley campus, a place where Ph.D. candidates and postdocs developing new technologies can interface more directly with business," Robinson says, describing the plans for the center. 
"This generous investment by Mark and Stephanie Robinson further strengthens Berkeley as a unique and thriving center for bio-entrepreneurship," says Chancellor Carol Christ. "As our scientists continue to develop game-changing technologies such as CRISPR and we prepare to open the Bakar BioEnginuity Hub in 2021, this commitment will leverage existing talent and cultivate the next generation of leaders in science-oriented business."
By focusing his support predominantly on undergraduates, Robinson is taking the long view, building a workforce that can understand the science and create more top biotech businesses with Berkeley roots. In creating new possibilities in science and business for Berkeley students, Robinson is also making a commitment for the long-term vitality of the university itself. He feels strongly that alumni of the program who build successful careers in biotech will be motivated to participate in the science and entrepreneurship life-cycle that served them by giving back. Ultimately, the Robinsons' gift is poised to cultivate a thriving ecosystem of innovation, collaboration, and generosity, with Berkeley at its vital center.