The new building, slated for completion in early 2025, will serve as an ecosystem that connects, inspires, and empowers a new generation of leaders, housing Berkeley Engineering's signature entrepreneurship programs: the Sutardja Center for Entrepreneurship and Technology (SCET), which serves students from every major on campus, and the Management, Entrepreneurship, and Technology (M.E.T.) program, which Berkeley Engineering offers jointly with the Haas School of Business.
"Together with advising, counseling, tutoring and career services, these programs will support and inspire our students to thrive at Berkeley and beyond," said Tsu-Jae King Liu, dean of Berkeley Engineering.
The new center will add 35,500 square feet across two new floors above the existing Bechtel Engineering Center, with views of Memorial Glade and the Campanile. It will serve as a hub for student groups and study partners from multiple disciplines and different perspectives. With four floors of dedicated student space, the reimagined Engineering Center will embody the "inclusive, team-oriented culture" of Berkeley Engineering.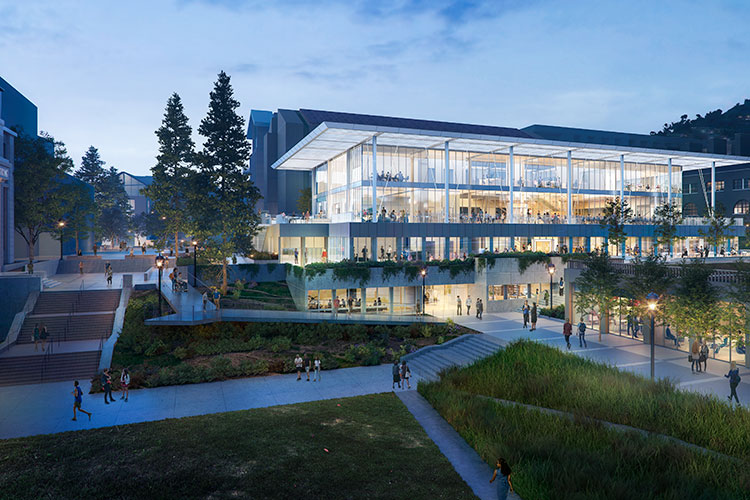 At the ceremony, Chancellor Carol Christ credited the Engineering Advisory Board and benefactors with both helping to propel Berkeley past the $6 billion goal of the Light the Way campaign and shaping the vision for the Engineering Center. She said the new space will prepare students for an increasingly interconnected, fast-paced world through its emphasis on inclusivity, community, and cross-disciplinary engagement.
"We need to provide intellectual and actual physical space for engineers to become entrepreneurs, for climate scientists to partner with public health experts, and for computer scientists to work with legal scholars," said Christ. "This will be a place of possibility where, each year, thousands of engineering students and their peers from across the campus will converge, hear diverse perspectives, and skills will be melded, multiplied, and brought to bear on the biggest challenges of our day, from climate change to global health to misinformation."
"I have no doubt that the next planet-changing, economy-boosting, era-defining technology leader will emerge from this building…" — Charles Giancarlo, Engineering Advisory Board member
The groundbreaking kicked off with a land acknowledgment and welcome by Tino Trangia, co-president of the Engineering Student Council, who expressed his gratitude to the donors for choosing to generously support Berkeley students.
"We recognize that, for our donors, there are countless opportunities for philanthropy and countless places to donate to, which is why we feel really special that you chose us — that you chose this university, this college and this student body to support," said Trangia.
To date, 85 percent of the funds needed to complete this project have been raised through the philanthropic support of the Engineering Advisory Board and other key benefactors. At the ceremony, Liu announced a new $5 million challenge match to help Berkeley Engineering meet its fundraising goals for the project.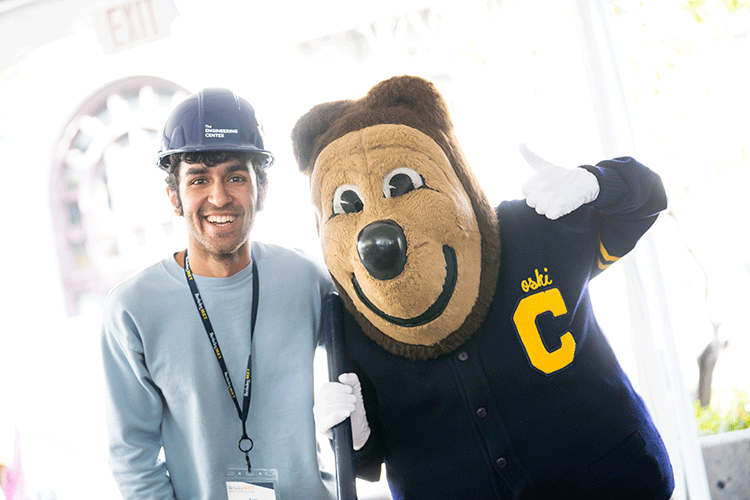 Liu reflected on the impact this new space will have on Berkeley Engineering's student body, which has grown significantly since the Bechtel Engineering Center was built 43 years ago.
She said the Engineering Center's collaborative environment will prove "transformative" for students by driving innovation and fostering connections across disciplines.
"Here on this site, students will learn, collaborate and innovate — whether it's to design, build, and launch high-powered rockets or to advance the forefront of 3D bioprinting for applications in reconstructive medicine," she said. "Magic happens when people from different backgrounds with diverse perspectives are given space and support to interact with each other day to day, year to year."
Charles Giancarlo, Engineering Advisory Board member and co-chair of the Light the Way campaign, shared his excitement about the Engineering Center, while proudly noting that nearly every member of the advisory board had made an impact by donating to the project.
According to Giancarlo, the center offers a unique space to students, one that will help shape them into tomorrow's leaders. The modern, glass-encased building, designed by architectural firm Skidmore, Owings and Merrill, will feature indoor and outdoor areas specially designed to facilitate group study, club meetings, and team projects, as well as to centralize entrepreneurship activities and events.
"There's really no other student space like it at Berkeley," he said. "I have no doubt that the next planet-changing, economy-boosting, era-defining technology leader will emerge from this building, armed with a Berkeley Engineering degree and fueled by ideas seeded here in collaboration with fellow students and faculty across the campus."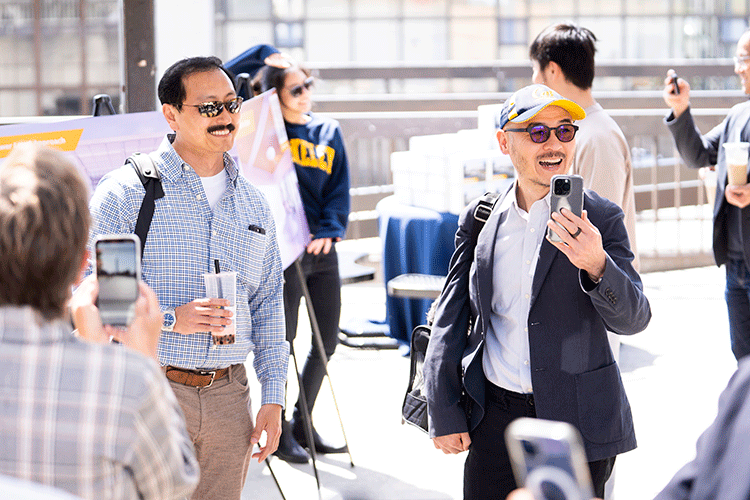 At a showcase following the groundbreaking, student groups presented posters and demonstrations of some of the center's planned programming. These groups included Engineering Student Services, Accelerating Success, UAVs@Berkeley, Space Technologies and Rocketry (STAR), Cal Seismic Design Team and the UC Berkeley Society of Women Engineers.
Attendees could take a virtual tour of the new Engineering Center by scanning QR codes on a series of display posters, giving them views of the architectural vision for different spaces within the building.
The groundbreaking was held the day before Cal Day, when the university welcomed newly admitted students. In her speech, Liu noted that this year's incoming class will be able to both witness the Engineering Center's grand opening in early 2025 and take advantage of its offerings.
"They are coming to the world's premier public university and to one of the best engineering schools anywhere," said Liu. "Our new Engineering Center will embody inclusive excellence and innovation with impact, which are the hallmarks of Berkeley Engineering."