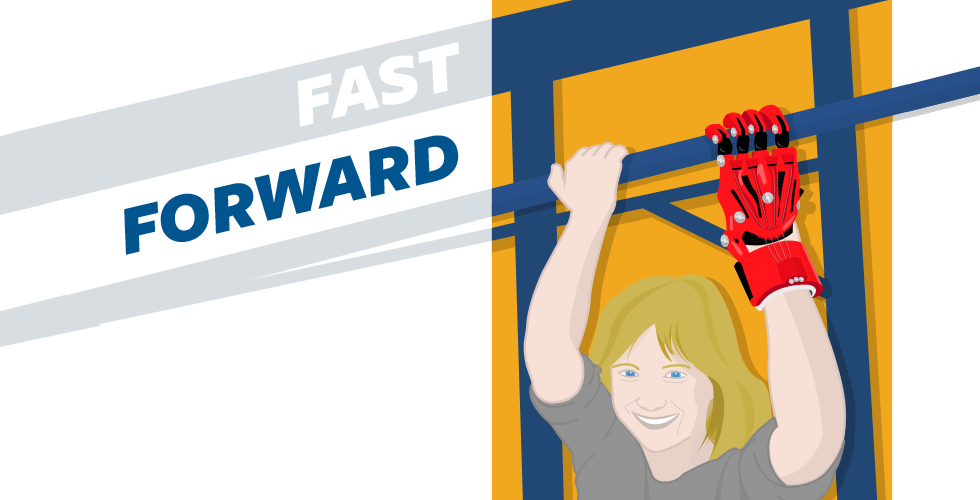 One day not long ago, a young girl named Sophie came home from school with bruises on her left wrist. When her mom asked her what had happened, she said she was trying to cross the monkey bars. Today, Sophie, who was born with four partial fingers on her left hand, uses a 3D-printed "super hand" that was created especially for her by researchers in Berkeley's CITRIS Invention Lab. Not only is her hand a winning story of low-cost, customizable prosthetics, it's helping make some everyday challenges, like gripping the monkey bars, a little easier.
Sophie's story got us thinking about movement — in her case, how Berkeley researchers are moving forward a digital revolution in the prosthetic industry that is helping people literally move better. In this issue, we share stories about movement, speed, progress, and other related concepts. Astronomers have obtained new data that suggest the universe is expanding even faster than expected. Physical movement can be a powerful tool for coping with trauma. A rich ecosystem of resources is helping nascent entrepreneurs accelerate innovative ideas into successful startups. And, as befits a public university with a strong ethical compass, Berkeley students, faculty, and alumni are moving the dial on a host of challenging health, social, and environmental issues.
So sit back, and enjoy the ride.
One step ahead of quakes

A preschool teacher is reading a story to her class. Suddenly, her phone warns her of an impending earthquake. She quickly gets the children under classroom tables, where they safely ride out the shaking.
When an earthquake strikes, a few seconds' warning could make all the difference between safety and harm's way. With that in mind, Berkeley researchers have developed a free Android app that taps a smartphone's ability to record ground shaking, with the goal of creating a worldwide seismic detection network that could eventually warn users of imminent jolts from nearby quakes. (An iPhone app is also planned.)
MyShake can provide life-saving early warning in countries that have no seismic network.
The app, called MyShake, "can make earthquake early warning faster and more accurate in areas that have a traditional seismic network, and can provide life-saving early warning in countries that have no seismic network," says Richard Allen, the leader of the app project, director of the Berkeley Seismological Laboratory, and chair of the Department of Earth and Planetary Sciences.
Downloaded by more than 170,000 users worldwide, the app uses the phone's accelerometers to record local shaking. For now, it only collects the information, analyzes it, and — if it fits the vibrational profile of a quake — relays it and the phone's GPS coordinates to Berkeley for analysis.
Once enough people are using the app and the bugs are worked out, Berkeley seismologists plan to use the data to warn people miles from ground zero that shaking is rumbling their way.
Universe expanding faster than expected
A Berkeley astronomy professor has helped to obtain the most precise measurement yet of how fast the universe is expanding — 9 percent faster than previously believed.
"If you really believe our number — and we have shed blood, sweat, and tears to get our measurement right and to accurately understand the uncertainties — then it leads to the conclusion that there is a problem with predictions based on measurements of the cosmic microwave background radiation, the leftover glow from the Big Bang," says Alex Filippenko, co-author of the paper announcing the discovery.
"Maybe the universe is tricking us, or our understanding of the universe isn't complete."
The cause could be the existence of another, unknown particle, or that the influence of dark energy (which accelerates the expansion of the universe) has increased. Or perhaps Einstein's general theory of relativity is slightly wrong.
"This surprising finding may be an important clue to understanding those mysterious parts of the universe that make up 95 percent of everything and don't emit light, such as dark energy, dark matter, and dark radiation," says the study leader, Nobel laureate Adam Riess, a former Berkeley postdoctoral fellow now with the Space Telescope Science Institute and Johns Hopkins University.
The findings, using data from the Hubble Space Telescope and the Keck I telescope in Hawaii, recently appeared in The Astrophysical Journal.
Rush of nature transforms anxiety to awe

For war veterans who live with a looping rerun of nightmarish memories, anxiety relief can come from an unexpected source — the adrenaline rush of whitewater rafting.
Craig Anderson Ph.D. '16, a doctoral student in psychology, questioned whether veterans, who generally have higher diagnoses of post-traumatic stress disorder (PTSD), would benefit from the great outdoors. He took two dozen Cal student veterans to the American River last summer to measure their psychological and physiological responses — and observed apprehension and fear give way to camaraderie and splash fights.
"If doctors were able to write prescriptions for people to get out in nature, it would be one of the most cost-effective health interventions available."
"It felt like we were really living in the moment," says Jet Garner, a veteran of two tours in Afghanistan who is majoring in political economy. "It really felt like we were moving on beyond our hang-ups.
The multi-year research project utilizes three methods to track stress and anxiety: surveys and journals; saliva collection monitoring physiological changes; and GoPro footage coding facial expressions, body language, and interactions.
Preliminary results support Anderson's hunch: nature-inspired awe and curiosity can boost positive feelings and ease symptoms, even for wary and withdrawn personalities.
Anderson is also taking inner-city teens on rafting trips to measure their responses.
"If doctors were able to write prescriptions for people to get out in nature, it would be one of the most cost-effective health interventions available, and would change our relationship to the outdoors," says Anderson.
Coping with conflict

Scene: A Syrian refugee camp in Jordan. A young girl's confident song cuts through the chaos. One beat later, a chorus of girls responds in force.
At first, a Syrian refugee camp may seem like an unlikely place to hear the call-and-response exchange of capoeira, a Brazilian fusion of martial arts and dance. Yet for these girls, uprooted and deposited in unfamiliar terrain, learning capoeira is a way to help reclaim their voice.
"People are using music and song and movement to build each other up."
Peace and conflict studies student Kasandra Kachakji '15 received funding that enabled her to move to Jordan and pursue her belief in capoeira's potential for helping refugees cope with their disrupted lives. Her instincts proved correct. The movement dialogue that unfolds between two people in capoeira was building a sense of community.
"People are using music and song and movement to build each other up, and feel together, in a place like a refugee camp where you don't necessarily have the structures to have a sense of community and togetherness," says Kachakji.
She also created a training program that enables girls to become trainers themselves. For Kachakji, the sweetest reward is the sound of an enthusiastic student proudly leading her peers in song.
Last year, Kachakji joined Capoeira4Refugees, continuing her work to bring movement, fun, and friendship to those affected by conflict.
Engineering students give the band a hand
Engineering students in an introductory computer programming course sometimes create robot computer games for their final project. But last semester, Tina Katopodes Chow, professor of civil and environmental engineering, identified a real-life problem for her 400 students to solve that hits close to campus.
The University of California Marching Band, aka the Cal Band, needed help. In this age of automation, they were still mapping their transitions from one formation to the next by hand. With several hours required to plan each transition, and multiple transitions per show, that's a time-consuming task. The band's size (240 musicians) and precision make it even more difficult. Their request? A computer program for choreographing transformations.
While band management software exists, it doesn't work well for the Cal Band. Chow's students organized into teams of three and seized the challenge. "The hard part," she says, "was finding a solution in which the band members don't collide, and then finding a new path or target if they do."
I'm addicted to you
Don't you know that you're toxic?
And I love what you do
Don't you know that you're toxic? — Britney Spears's "Toxic," performed by the Cal Band
Eight student groups developed an effective algorithm that automatically solves most transition issues within minutes, and three of those groups rectified every problem.
"The elegance was in how they systematically went through the transitions and eliminated collisions. They kept fixing the movements until there were zero collisions," says Chow.
While Chow initially worried that the task would be too hard, the band now has a useful tool it could someday use to create a halftime show.
5, 6, 7, 8… Dance!
Across campus, at nearly any time of day or night, you will find hordes of students dancing — in front of reflective glass windows, on plazas, and even in parking lots. Berkeley boasts nearly 16 formal dance clubs representing more than 1,200 students. The community has grown from just 300 students in four years and hopes to add more formal clubs this year.
Covering a mix of styles and cultures, the clubs range from swing to hip hop, bhangra to blues, and gypsy to salsa. They even have their own senator in the student government. Most groups are highly organized with leadership teams, set schedules, and uniforms. Some compete, others perform, and all of them have fun.
The rising interest in dance clubs may speak to our students' desire to build unity in an often-fractured world.
Rosalind Hsu '17, who is majoring in molecular and cell biology, is the artistic director of Main Stacks, Berkeley's first competitive urban dance team. Though she danced as a child, she had never been exposed to street styles until she auditioned for several campus groups.
Hsu has gained more than new skills, a community, and a break from the demands of her major. "I used to be quiet and restricted growing up," she says. "Now I feel accepted."
Why is dance such a popular extracurricular choice, and why now? Hopi Hernandez '16, who is majoring in media studies, points to social media. "YouTube has created a culture of sharing and learning," she says. "I used to get together with my friends in middle school and emulate the videos."
The rising interest may also speak to our students' desire to build unity in an often fractured world. Dance is one language, albeit physical, that can bring cultures together in creative and meaningful ways.
Undergrads address the data deluge

Whether fledgling freshmen or pre-professional, Berkeley students have countless opportunities to gain practical experience and fast-track their careers on campus and in the world.
"Berkeley is doing something transformational, something no other university has imagined."
One new opportunity addresses the deluge of digital data and enables students to engage capably and critically with it to gain insight. Helping students across a wide range of majors become data literate, Berkeley's data science education program emerged last fall and quickly branched out from a base in computer science and statistics.
"Berkeley is doing something transformational, something no other university has imagined. It's integrating data science as a core component of liberal education," says Bob Jacobsen, dean of undergraduate studies in the College of Letters & Science.
The entry-level course "Foundations of Data Science" combines key concepts in computation and mathematics with hands-on analyzing and interpreting of real data. An accompanying series of 16 courses lets students follow their curiosity further and connect data fundamentals to fields as diverse as ecology, history, neuroscience, sociology, and urban planning.
More than 550 students from at least 50 majors enrolled in the new courses during the program's first two semesters. Berkeley's plan to train tomorrow's data scientists will continue to expand into new disciplines, add more advanced courses, and may create a data science minor or major.
Law students take learning to court
People in underserved communities often lack access to a lawyer for their legal challenges. Driven by a desire to make a difference and to learn by doing, Berkeley Law students can perform pro bono work for actual clients as soon as they start classes — something few law schools offer.
Last year, nearly 250 law students took part in Student-Initiated Legal Services Projects.
For the past five years, the Student-Initiated Legal Services Projects (SLPS) have provided opportunities for students to assist immigrants, inmates, international refugees, indigenous people, and others caught in a crisis or conflict. Students also partake in legal research and educational outreach. Practicing attorneys mentor the members of each project.
According to academic coordinator Diana DiGennaro, what distinguishes Berkeley's pro bono program are the breadth of client experiences, the active student leadership, and the chance to take part from the first semester. Last year, more than 350 students applied for and nearly 250 took part in SLPS projects; almost three-quarters of the participants were first-year students.
Since a typical commitment involves training and 20 to 40 hours of work each semester, some students learn lessons they won't gain in a classroom… or find their life's calling. Richard Weir '16 began working with the International Refugee Assistance Project during his first week at Berkeley Law — setting him on track to secure a highly competitive post- graduate fellowship with Human Rights Watch.
Berkeley students display pro bono power
Conducting legal clinics for tenants and workers
Assisting northern California's Karuk Tribe with natural resource issues
Teaching street law to youth in Juvenile Hall
Preparing long-term prisoners for reentry to society
Speeding startups to liftoff

A research university advances on the flow of ideas from its faculty and students. Some ideas inspire useful products, services, or even new industries. How does an idea with commercial potential make it from the lab to the marketplace?
"Berkeley is as quality a place for investors to seek good deals as any campus on the planet."
To compete with our private peers, including a certain campus in the heart of Silicon Valley, Berkeley has built a rich ecosystem of resources to help nascent entrepreneurs nurture their innovative ideas into startups that can survive in an aggressive environment. This ecosystem includes incubators, which provide initial funds or other support, as well as accelerators, which offer office space, business acumen, and access to investors.
With startups emanating from its breadth of bioscience, business, computer science, engineering, and other programs, says Caroline Winnett M.B.A. '90, executive director of SkyDeck, a leading campus accelerator, "Berkeley is as quality a place for investors to seek good deals as any campus on the planet."
The Promise of Berkeley looks at three options open to students, faculty, and alumni to help launch their startups from idea toward IPO.
Free Ventures
Founded: 2013, by alumni Jeremy Fiance '14 and Sam Kirschner '14
What it is: Student-run "sandbox" incubator for undergraduate entrepreneurs
What it offers: Seed capital, community, connections with alumni entrepreneurs, and academic credit for converting ideas into companies that otherwise might never exist
What it's done: Create 34 businesses backed by investments of over $20 million
Success story: Lily Robotics makes an autonomous aerial camera that follows whoever wears an accompanying GPS transmitter and captures outdoor activities. Part of Free Ventures' first cohort of startups and later accelerated at SkyDeck, Lily launched a pre-order campaign generating $34 million by the end of 2015.
CITRIS Foundry
Founded: 2013, by engineering Ph.D.s Peter Minor '13 and Alic Chen '11 and former tech executive Patrick Scaglia within UC's Center for Information Technology Research in the Interest of Society (CITRIS)
What it is: Accelerator of early-stage companies spawning hardware or software solutions for challenges such as clean energy
What it offers: Up to $50,000 in cash and services, studio space, invention lab for prototype production, and six months or more of customized coaching with industry experts
What it's done: Develop 31 startups that have added $70 million to California's economy
Success story: WattTime, a nonprofit whose software connects smart devices with clean energy and lets consumers learn — and limit — the carbon footprint of their electricity. A prototype won the CITRIS Mobile App Challenge in 2014. This year, WattTime partnered with Energate to deploy a smart green thermostat for residential use.
SkyDeck Berkeley
Founded: 2012, by Haas School of Business, College of Engineering, and Office of the Vice Chancellor for Research
What it is: Downtown Berkeley accelerator of "moonshot startups" ready to change the world and turn a profit
What it offers: Penthouse office space or "hot-desks," six-month Berkeley Acceleration Method program of business development, and Demo Day for presenting to potential investors
What it's done: Graduate more than 100 SkyTeams that have raised $107 million in funding
Success story: Zephyrus Biosciences, co-founded by Berkeley bioengineering professor Amy Herr to market a single-cell protein analysis technique, completed SkyDeck training in 2015 and was acquired this year by Bio-Techne Corporation.
Scaling up big ideas

Most contest winners receive something tangible, like a trophy or a new car. But students who come out on top of many Berkeley-sponsored contests reap a reward greater than mere financial support: the chance to scale up their bright ideas and export positive change to developing countries worldwide. Consider these innovative — and inspirational — examples.
Recognized by Big Ideas@Berkeley, which supports student innovation for social change, Dost ("friend" in Hindi) is a mobile phone platform that empowers poor, urban mothers to engage in their children's early education. The tool takes advantage of ubiquitous mobile technology to transmit brief, automated voice messages — each one suggesting a simple activity for parents to stimulate a child's learning of words, numbers, or motor skills. Collaborating on Dost are Sneha Sheth M.B.A. '16, i-School engineer Sindhuja Jeyabal '16, and education doctoral student Devanshi Unadkat. Since India alone has some 150 million illiterate women, Sheth sees Dost's vast potential for helping "… millions of mothers to break the cycle of illiteracy." They have completed tests in Mumbai and Delhi and hope to reach 1 million families in the next five years.
Another standout twice recognized by Big Ideas is an effort to turn poop into power. Emily Woods, a master's student in the College of Natural Resources, had already co-founded Sanivation, an organization that installs toilets and collects the waste from homes in Naivasha, Kenya, that lack plumbing. Now she's working with three other students on Feces to Fuel to enable the production of charcoal for cooking fuel. Compared with wood charcoal, human fecal briquettes create less smoke and require no removal of trees: a win-win for Kenyans and their environment.
Alumni Manuel Schulze '13 and Torben Fischer '14 also envisioned a cleaner world when they started Recycle Up Ghana in 2014, with cash from an International House contest that supports grassroots projects. Around 70 percent of the plastic waste produced daily in Ghana ends up littering streets and beaches, clogging storm drains, or burning in landfills. The program targets this plague of plastic trash by empowering high-school students to learn firsthand about waste management issues in their own communities and to effect entrepreneurial solutions for reducing litter.