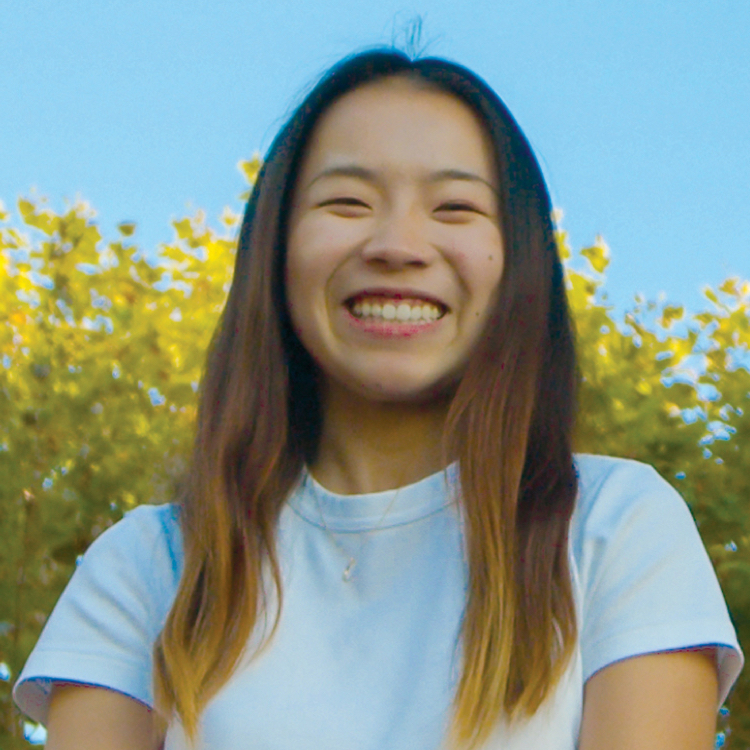 "It's really applicable and allows me to see a lot of things through the lens of numbers and trends," she says. "It also involves a lot of background discussion, like how data is collected or how it can be biased. It's just a really holistic review of what I'm seeing."
Chen's love for data science bloomed. She became a teaching assistant for the wildly popular course "Foundations of Data Science" (also called Data 8), participated in an undergraduate research project with a startup, and interned at Facebook, where she will return after graduation for her first job.
Beyond opportunity, Chen also gained community, a place where she felt welcomed as a student with no initial background in data science and found professors she admired. "I have role models to look up to in this field," she says.
Chen is one of thousands of students swept up in the rising tide of data science at Berkeley, and opportunity and community are at the core of the Light the Way campaign's greatest priority — the Gateway, a brick-and-mortar home in the making for the transformative new Division of Computing, Data Science, and Society (CDSS). Seeded with an anonymous $252 million gift, the visionary facility will serve as both a physical gateway, greeting people on the campus's north side, and an intellectual gateway, the connector between students and faculty in computing, data science, or statistics and those in diverse disciplines across campus. Slated to open in 2025, the Gateway is being designed by renowned firm Weiss/Manfredi, with support from the firm Gensler.
More than offering much-needed classroom and office space, the Gateway will model novel and flexible ways to work and learn. Its open, light-filled interior will hold communal gathering areas, collaborative neighborhoods, labs, research centers, and other spaces organized in a continuous flow to encourage interaction. It is through this interconnectedness that inspiration and innovation will flourish.
Inspiration and innovation toward what? Across campus, researchers are advancing data science, machine learning, artificial intelligence, and advanced statistics, and using them to tackle data sets and address complicated problems in areas from human health to climate change to social justice.
These technologies are also changing how society operates. In our daily lives, machine learning — in which a machine can improve its own performance by processing and learning from data — collects information for your virtual assistant (e.g. Siri), predicts traffic for your GPS, and personalizes your news feed. It is also increasingly being used to set bail and decide who gets access to healthcare. Artificial intelligence, which generally refers to the capability of a machine to carry out tasks as a human would, may one day help us drive our cars or care for our parents as they age.
Opening in 2025, the Gateway will be prominently located on the north edge of campus. Renderings by Weiss/Manfredi. Note design is provisional and in development.

Home to the Division of Computing, Data Science, and Society, the Gateway incorporates classrooms, lecture halls, and meeting spaces for more than 1,600 faculty, students, researchers, and staff.
"To ensure these systems and tools are used ethically and responsibly, experts in computing and data science must work closely with ethicists, sociologists, legal scholars, and others at every step of the process," says Jennifer Chayes, associate provost of CDSS. "And for these collaborations to happen, these disparate groups need a space to work together."
The Gateway also helps fulfill an ambitious plan to expand teaching in data science. CDSS emerged just a few years ago in response to efforts to build a new data science curriculum from the ground up. Student enrollment in Data 8, the introductory course, quickly exploded — from fewer than 100 in 2015 to 3,000 students a year today. Since 2019, over 2,000 students have declared data science their major.
This mission to educate students on both the technical know-how and the ethical and societal dimensions of data science sparked a campus reorganization — building new connections across the College of Engineering, the College of Letters & Science, and the School of Information.
The Gateway "will be a place of convergence that sparks bold new innovations and startups," says Tsu-Jae King Lu, dean of the College of Engineering, "even as it expands the frontiers of knowledge and grows the number of graduates who are prepared to meet the demands of a world increasingly informed and shaped by data."
We spoke to three people about how the Gateway will create possibilities for students, research, and the field of data science itself.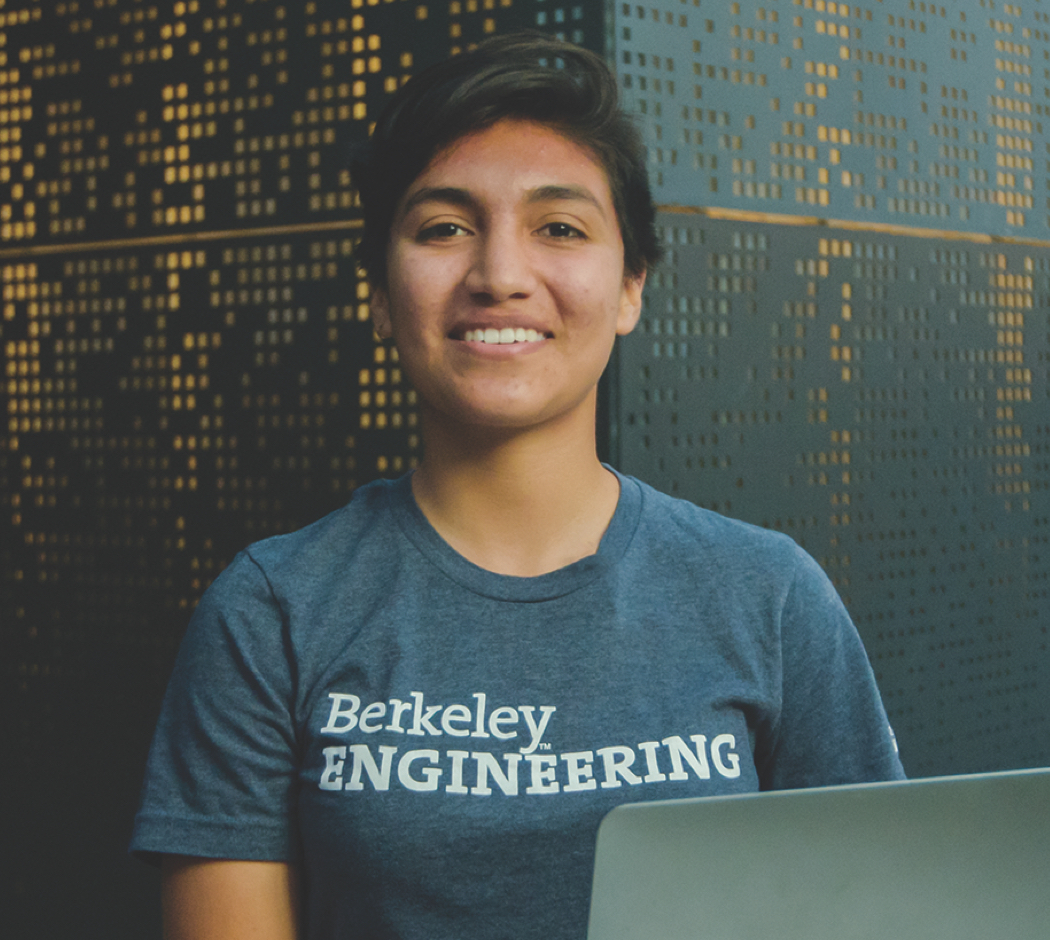 "Grab from every field of study"
When Lizzette Corrales '22 was accepted early as a Regents' and Chancellor's Scholar, Berkeley's most prestigious scholarship, she didn't necessarily understand what it meant to be an engineer, let alone study in the top-ranked mechanical engineering program. Now in her last year, Corrales is grateful for her choice and for collaborating with undergraduate colleagues across campus, applying her newfound expertise to research projects in other disciplines.
"Especially now as a senior, I've seen how important it is to grab from every field of study," says Corrales. "Even if you think it's not related, in some way, it is. There are always crossovers."
Recently, Corrales has been focused on optimizing drone flight paths for reading soil sensors placed within an agricultural field. The research combines machine learning and precision agriculture to remotely collect a variety of data sets from the soil in real time. The goal is to one day give this technology to farmers to better assess the health of their crops and improve agricultural practices and resources,while minimizing environmental pollution through the overuse of chemicals.
"When I first stepped into that research, I had to learn about agriculture to understand why these drones were needed. It was a lot of different people and things intersecting at once with a common goal," says Corrales, who co-authored a paper on the project currently under review for publication. "That is why I love the open design of the Gateway, because it reflects a commitment to an equitable and accessible learning experience for everyone. That's important, because how successfully we collaborate will help us to navigate the future."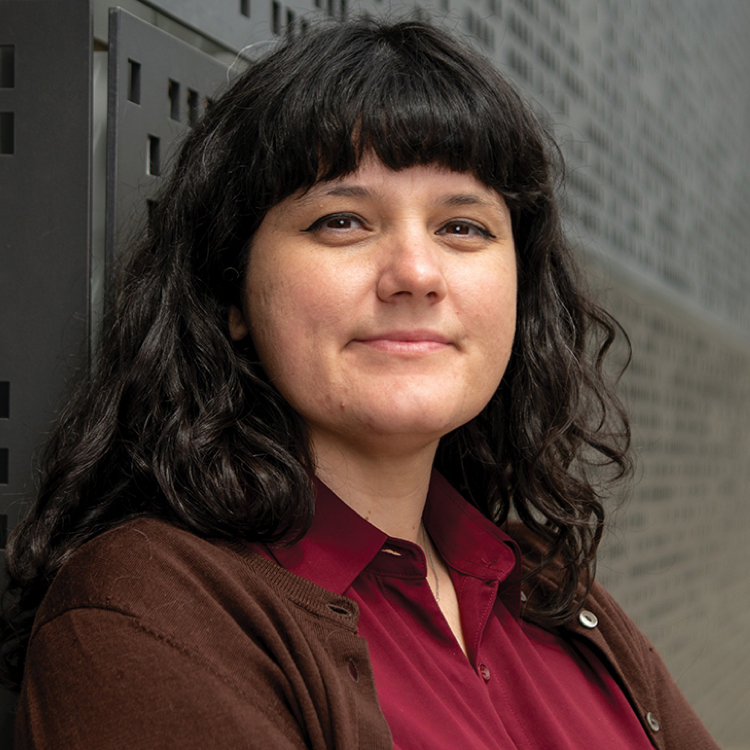 Different disciplines, common concerns
Growing up outside of Chicago, Ciera Martinez fell in love with trees at the tender age of six. Gazing into the canopy sparked a lifelong curiosity about the complex patterns found in nature that eventually led to a Ph.D. in plant biology from UC Davis.
"As a young girl, I collected things of different sizes and shapes," explains Martinez. "But to study the evolution of plant shapes, I had to learn to code. That's when I discovered collecting and analyzing massive data sets was my career calling."
Martinez is now the biodiversity and environmental sciences lead for the Berkeley Institute for Data Science (BIDS). Her team is exploring one of California's biggest issues involving climate change — wildfires. Composed of ecologists, microbiologists, soil scientists, and theorists, the team is utilizing vast amounts of data collected in the field to understand and mitigate how wildfires affect the wide range of native species that call these forests home.
"These days, you'll likely find me in the research lab more than a forest," Martinez says. "I'm looking forward to having lab space in the Gateway, where my fellow data scientists and researchers from a variety of fields can work together under one roof."
The Gateway will be designed to reflect the diversity of scientists like Martinez who bring different perspectives to common issues of concern — and who will apply those lessons throughout many pressing challenges.
"People come from every walk of life to study here because they know the mission at Berkeley is to serve humanity by increasing our understanding of nature's patterns to prevent future environmental devastation, and to create a brighter future for everyone and the planet," Martinez says. "I think that's a noble goal."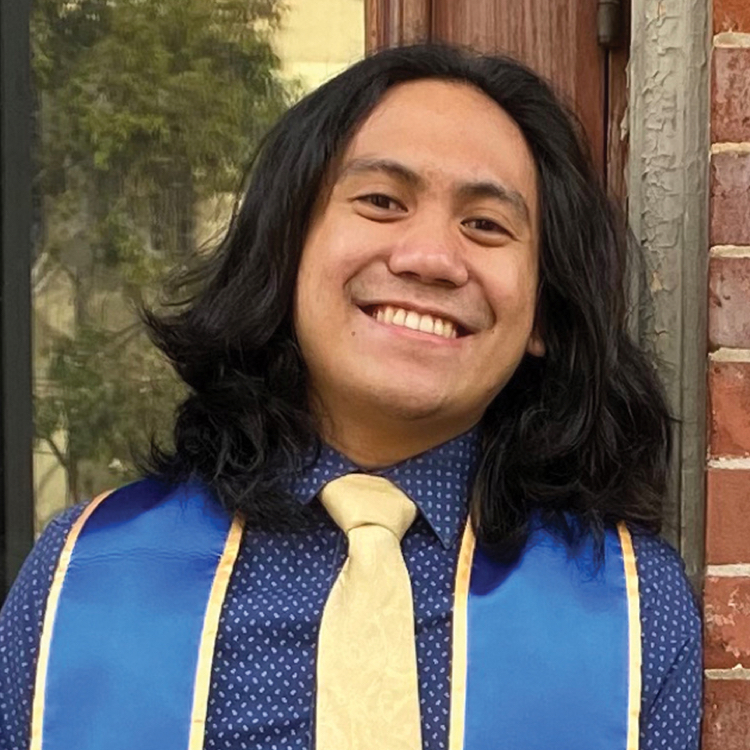 Bringing all voices to the table
While pursuing bachelor's degrees in media studies and microbial biology as a Regents' and Chancellor's Scholar, Ian Castro '21, M.I.M.S. '23 saw a Facebook recommendation for Data 8. Had he discovered data science sooner, it likely would have been his major.
"I took that course and realized, hey, I can actually code," Castro says. "My brain works well with this topic." So well that Professor Ani Adhikari invited him to serve first as a tutor, then as an undergraduate instructor, for Data 8.
Castro was later called upon to distill Data 8's concepts into a course for graduate students from various disciplines. Then he developed a six-week summer intensive for incoming SEED Scholars, an honors program to inspire undergraduate diversity in STEM fields.
For the latter course, Castro set out to "help convince students in a similar situation to myself — an underrepresented minority in the field who came to college without any prior programming experience — that they can learn how to code, succeed in their coursework, and become skilled data scientists."
Castro taught the summer course in 2020 and 2021. He recalls one incoming student initially intimidated by graphs who gained enough confidence to enroll in, and enjoy, a graphical analysis economics course in his first year.
Motivated to promote data literacy and create equitable pathways into science or policy, Castro commenced graduate studies last fall at the School of Information, part of CDSS. There, he's pursuing his goal to increase accessibility to information skills for non-computer scientists. He says, "If people understand how data is created, how it's used, how it works, they'll be able to think a bit more critically, which we need in a healthy democracy."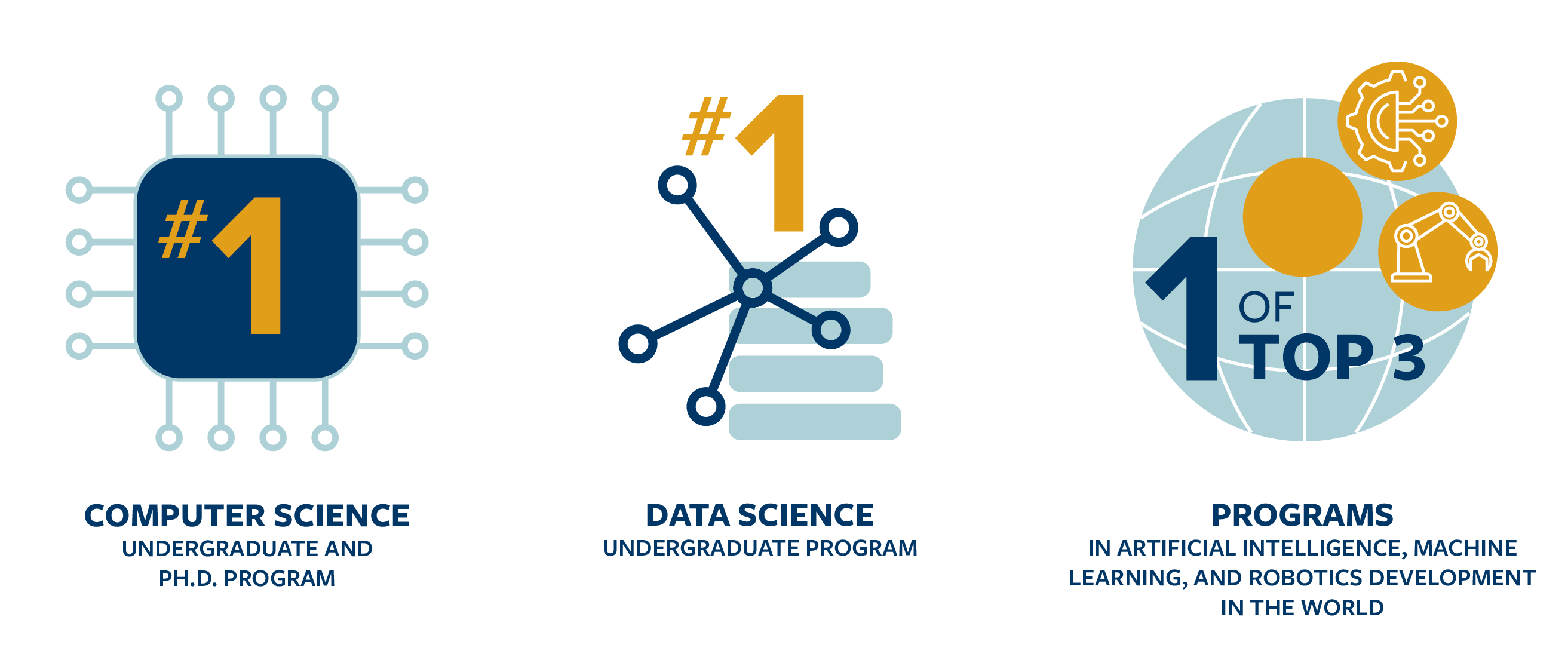 Bold partners for a bold vision
Fulfilling the bold vision for the Gateway requires bold partners. Three recent gifts demonstrate the transformative power of donor support.
Professors Scott Shenker and Ion Stoica of the Division of Computing, Data Science, and Society (CDSS) and the College of Engineering each gave $25 million. Shenker's gift will help facilitate development of the Gateway. Stoica's gift will also support construction, as well as two new full-time faculty positions in computer science.
"We want to build an idea factory, an ecosystem where students, faculty, and staff can come together to tackle complex societal problems and pioneer new approaches in computing and data science," says Stoica.
Driven to help improve gender equity in the historically male-dominated tech world, Michael '91, M.S. '92 and Teresa Olson created two fellowships within statistics and electrical engineering and computer sciences. Focused on supporting women and gender nonbinary doctoral students, the fellowships are named in honor of pioneers Paula Hawthorn Ph.D. '79, a leading software engineer who mentored Michael, and the late statistics professor Elizabeth Scott '39, Ph.D. '49.
Michael, the co-founder and former CEO of Cloudera, a big data company, says, "We seek to support those whose backgrounds and minds can add new verses, rather than simply repeat the chorus."
Imagine with us
Imagine if computers could engineer synthetic proteins that enable new drug therapies… if machine learning could detect and prevent pollution in the drinking water of developing communities… if we could design social media that repairs the harm inflicted by hate speech and harassment in ways that heal and bridge communities.
While Berkeley has raised more than half of its goal to fund the Gateway, we are seeking partners who can imagine with us and help bring this dream to life.
"It's time to use data for good at the grandest scale possible with all of the agility, intelligence, heart, and grit that Berkeley brings," says Chancellor Carol T. Christ. "It's time for transformation."