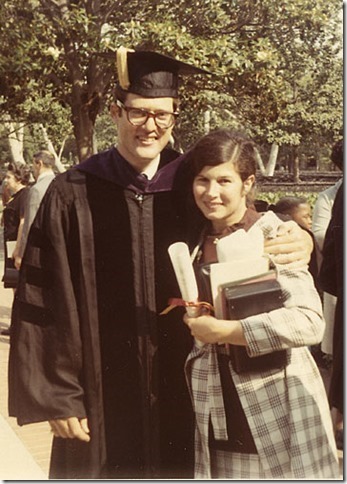 In the fall of 1963, I met my wife, Ann Gresham Pittel, in a French literature class taught by Professor Porter in Dwinelle Hall. Our first date was at Pizza Haven — and we've been enamored ever since!
There have been several chapters to our story. Ann lived in Cunningham Hall and majored in music at Cal. She owns a music school in West L.A. that is celebrating its 50th anniversary this year. I lived in Griffiths Hall. I had been accepted into Harvard but elected to attend UC Berkeley instead! I practiced law for over 40 years and have been a business consultant for the past 10 years. We have a 1970 VW Bug Convertible with the license plate "Oskie" — because "Oski" had already been taken, and that was as close as I could get! I've had it for 50 years!
We have visited the Berkeley campus several times and still love seeing where we met and fell in love. It is difficult to express adequately our feelings for Cal. Suffice it to say that we very often talk about our time there and are grateful for our education and the luck we experienced in meeting there.