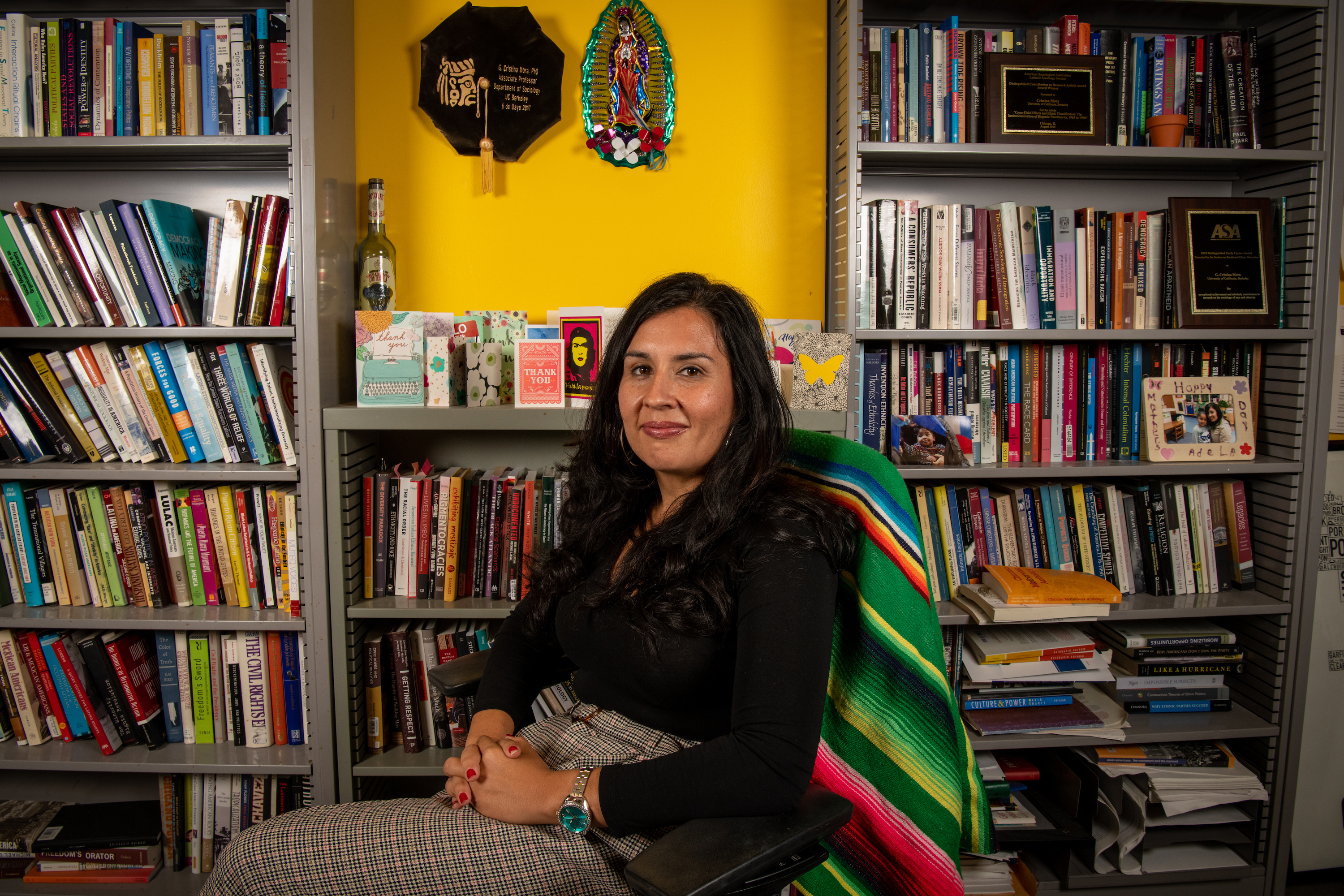 Mora struggled in college at first, holding down three part-time jobs to cover expenses and help support her family. She discovered sociology, which showed her how to apply a theoretical framework to improve peoples' lives. Determined to pursue sociology as a career, Mora overcame her anxiety about engaging with professors. "I had spent my years here feeling as an outsider," she says, "feeling, as my friend called it, like a clerical error."
After graduate study at Princeton and the University of Chicago, she came back to Berkeley to continue her life's work on the sociology faculty at a place that matters to her.
"I could have stayed in the Ivy League," she says, "but I chose Berkeley." Professor Mora knew that more of the students here would be like her. Having faced firsthand similar challenges and obstacles, she can assure them that "Berkeley is yours, and you're more than just a number. You will be a part of creating the new culture we need."
She's inspired by the students' talent and tenacity, their "great diversity of experience and commitment to a new tomorrow." Mora adds, "All of those experiences coalesce in the laboratory that is our classroom. It becomes more lively and meaningful."
Cristina Mora exemplifies the caliber of faculty that Berkeley cultivates: an accomplished scholar who is here because of, and for, our students. The faculty are committed to lives of learning, but also of teaching, advising, and mentoring the next generation of public-minded leaders and changemakers who enrich our communities and power our economies. Berkeley's professors foster inquiry and generate discovery, sharing new insights with students and with the world. These thinkers and teachers — devoted to cultivating knowledge and challenging preconceptions — are at the heart of our preeminence.
Investing in one faculty member effectively becomes an investment in the inspiration and education of thousands of students. While the number of undergraduates at Berkeley has increased by nearly 7,500 since 2006, the total number of full-time faculty has remained at around 1,500. We must grow our faculty to ensure the best possible education for students. A central priority for our campaign is to add 100 tenure-track faculty positions within five years and provide sufficient resources for them to conduct critical research alongside students. To truly compensate for the increase in undergraduate enrollment relative to faculty recruitment, we would need to add more than 350 new faculty positions. With your help, 100 new faculty is an achievable goal.
Berkeley competes with the top universities around the globe for new faculty — and yet our peer institutions have been increasing the support they can provide for recruitment, retention, and research. To sustain our intellectual stature, we need to successfully attract the best scholars to Berkeley for the duration of their careers. Most of our esteemed senior faculty members started at Berkeley as assistant professors. Their early nurturing within Berkeley's unique ecosystem of broad and deep expertise is a key reason why we rank as one of the best global universities, public or private. Supporting our faculty today will secure Berkeley's academic future.
10 current faculty members — and 26 in total — have earned a Nobel Prize.
Berkeley's total full-time faculty has remained near 1,500 — while the number of undergraduate students increased by about 7,500 since 2006.
Since 2005, our faculty retention rate is above 75 percent.
How you can light the way
Expand our faculty
Provide resources for a named, endowed Chancellor's faculty chair that creates a new junior faculty position and supports the research and teaching of an eminent professor, broadening the scope and impact of Berkeley.