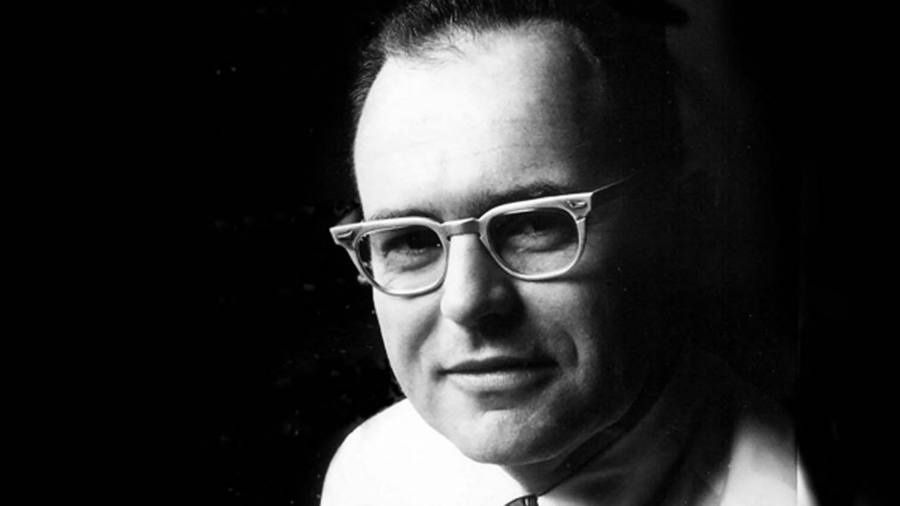 The Berkeley community mourns the loss of Gordon E. Moore '50, a groundbreaking technician, thoughtful philanthropist, and self-described "accidental entrepreneur," who is perhaps most widely known for his 1965 prediction that the number of transistors that can fit on a silicon chip would double approximately every two years. At an event celebrating 50 years of "Moore's Law" at the Exploratorium in San Francisco, Moore expressed that having made one successful prediction, he would not attempt another. According to those who knew and admired him, such reticence in the limelight was typical.
"Gordon's boundless generosity, philanthropy, abiding devotion to preserving our natural environment and helping others succeed define accomplishments that will be greatly missed." — Robert Tjian
"Gordon was a brilliant and visionary pioneer, but also a quiet, modest man with steely determination and grit," says Professor Emeritus of Engineering Paul Gray. "The microchip technology and resulting global semiconductor industry that he and his colleagues created profoundly changed the world and improved the life of virtually every person on the planet."
A founder of Fairchild Semiconductor and Intel, Moore was a central figure in the technological revolution that transformed computers from room-sized-punch-card-reading machines to the lightweight devices we have come to rely on. Much of what we refer to as "smart" has its origins in Moore's curiosity about the natural world — a driving spirit of inquiry that ultimately led him to champion silicon as the base material for the now-ubiquitous microchip.
Before pursuing degrees in chemistry at Berkeley and Caltech, Moore spent a lot of time exploring the outdoors around the small California town of Pescadero, where his father was the deputy sheriff and his mother's family ran a general store. His early exploration of the land around Pescadero developed into a passion for fly fishing, an activity he would later pursue with another aficionado, Robert Tjian, Howard Hughes Medical Institute president and Berkeley professor of biochemistry, biophysics, and structural biology.
"One of my greatest life experiences has been the privilege to work with Gordon Moore and serving as chair of the Gordon and Betty Moore Foundation scientific advisory board," says Tjian. "Rarely have I interacted with such a humble, yet powerful intellect whose few words carried such weight and insight. My most memorable times with Gordon were spent chasing fish in exotic locations and discussing science and how to build company culture. Gordon's boundless generosity, philanthropy, abiding devotion to preserving our natural environment and helping others succeed define accomplishments that will be greatly missed."
While Moore's philanthropic engagement with Berkeley has been remarkably generous — and was partially acknowledged by campus leaders who selected him as Alumnus of the Year in 1997 — the depth and breadth of his legacy at our university is particularly striking. Through the Moore Foundation and in his personal commitments, Gordon and his wife Betty advanced the Berkeley research enterprise across multiple disciplines, particularly basic scientific research in the life, physical, and environmental sciences. He was scientific as a philanthropist, aiming to support projects that can have a demonstrably positive impact, such as advancing cell imaging and microscopy, reducing sudden oak death, supporting programs for undergraduates and K-12 students pursuing science, helping to sustain the Gump Research Station on the island of Mo'orea, and establishing the Innovative Genomics Institute. With his steady dedication to science in service of the public good, his humility and generosity, Gordon Moore clearly touched many lives at Berkeley and far beyond.