The Arcus Social Justice Corps (ASJC) will give CED post-graduates relief from the mounting student loan debt, rising tuition, and cost of living that many students face upon graduation. That financial stability will give Arcus Fellows the opportunity to focus on the students' passions — like reforming housing policy, food accessibility, or urban planning — and empower them to pursue social justice careers at groups and institutions that tackle the impacts of social and racial inequities head-on.
"I'm grateful for this powerful investment from Jon Stryker, which achieves two principal things: It provides significant financial support for students in the College of Environmental Design, and it embeds, in a direct way, Berkeley's commitment to social justice," said Chancellor Carol T. Christ. "The Arcus Social Justice Corps is a magnificent idea that will have tremendous impact for our students and the communities they serve."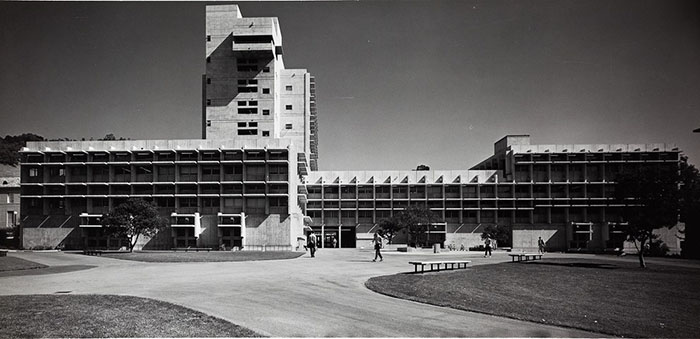 Since its inception in 1959, CED has sustained a legacy of educating environmental designers for public service centered on equity, ecology, and excellence.
As the first school in the nation to house the fields of architecture, landscape architecture, and city and regional planning under one roof, students attend CED with the intent to address society's most pressing urban challenges.
This recent gift enables CED to ensure that Arcus Fellows become frontline social justice practitioners — a programmatic first among major international schools of architecture, landscape architecture, and urban planning, said CED Dean Vishaan Chakrabarti.
"Historically, CED has actively involved students in social justice and community-based work throughout their education, but now we can finally guarantee they are financially supported in their endeavors without the burden of overwhelming loan debt," Chakrabarti said. "The ASJC will ensure that CED fulfills its promise to be an incubator for our brightest minds to, together, create equitable and ecological communities of the future."
Arcus Fellows will be selected by a CED committee that includes practitioners in social justice and faculty, staff, student, and alumni representatives. Every enrolled master's degree student at CED can apply for an Arcus Fellowship. The first cohort will be selected this fall, and each year thereafter fellows will pledge to work in social justice roles after graduation with the intent to produce work that combats the most pressing societal challenges.
The selection process will take place when prospective students apply for graduate school at Berkeley.
These students will not only receive debt relief, but also a sense of belonging through the building of a community that is dedicated to social justice. The fellowship will offer programming throughout the year for students to incubate new ideas, attend seminars, receive career planning support, engage in community-connected studios, and receive direct mentorship from practitioners in the real world.