A Message from Carol Christ, Chancellor and Chair, National Campaign Steering Committee
July 20, 2020
In each of the past two years, I've been delighted to report back-to-back records in philanthropic support from our extended Cal family of alumni, parents, students, faculty, staff, and friends. I'm pleased that we have extended this streak to three years in a row: Once again, UC Berkeley has broken the previous year's fundraising record, marking the first time we've raised a billion dollars in gifts, pledges, and private grants. Few universities, private or public, have achieved this milestone and we are proud to see Berkeley join their ranks.
I am so grateful to you for your part in making this an unprecedented year in giving. The totals represent contributions from more than 61,000 donors, reflecting an increase of $404 million in gifts, pledges, and private grants over the previous fiscal year.
Our success was driven significantly by the launch of Light the Way: The Campaign for Berkeley, a $6 billion comprehensive fundraising effort. The fundraising record includes several major gifts that anchored the campaign, led by the single largest gift to the campus to date, an anonymous $252 million to seed the construction of a new data hub building, for which we seek to raise an additional $300 million to complete the project.
Also announced at the launch was a $50 million gift by Gordon Rausser, former dean of the College of Natural Resources, to boost Berkeley's leadership in addressing environmental and health challenges. In honor of the landmark gift, the largest donation ever received by the college and the largest naming gift of any academic unit at Berkeley, the college was named the Rausser College of Natural Resources.
With $1.04 billion raised in 2019–20, the campus is 62 percent of the way toward reaching the $6 billion campaign goal.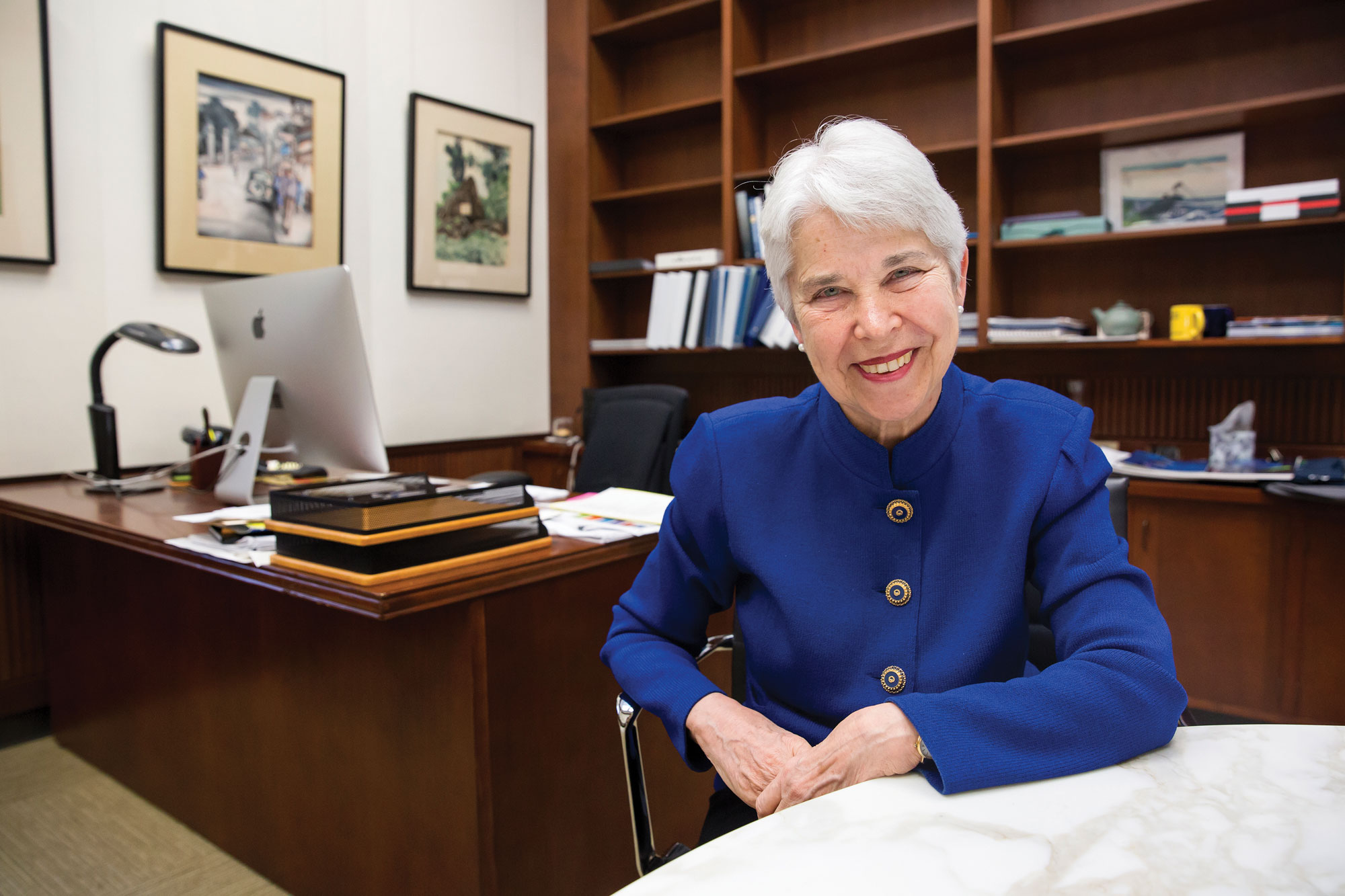 The fundraising record comes at a time of extraordinary challenge and opportunity for the university and the world, a complex set of circumstances that are unlike anything most of us have seen in our lifetime. We launched Light the Way on February 29, and just a few weeks later, the COVID-19 pandemic profoundly altered our lives. The ripple effects of the coronavirus are now reaching the university's finances, signaling the need for cuts in our operating budget.
Amid this sobering picture, philanthropy shines like a bright star.
During these uncertain times, I draw inspiration and energy from the response of our campus community, our agile research enterprise, our resolute drive to serve the public good, and the generosity of our donors, whose support affirms that Berkeley matters now more than ever.
Our faculty and students are tackling the challenges posed by COVID-19, from discovery-based research unlocking the mysteries of the virus, developing diagnostic and therapeutic tools, and helping us confront the complex social, economic, and political aspects of the pandemic. Total giving includes more than $21 million from over 3,800 donors to support COVID-19 related efforts in research and testing, and to provide emergency support to Berkeley students.
I am heartened by the ways in which early on we were able to make the case for supporting the unfolding emergency needs of our students due to the coronavirus. Part of the $21 million above includes more than $1.3 million raised for the Student Emergency Fund from more than 3,400 gifts and pledges, and we intend to continue raising contributions for this purpose.
We were also successful in making the case for supporting the Innovative Genomics Initiative in its efforts to fast-track our testing capability for COVID-19 and develop new diagnostic tools and therapeutics. The $21 million above includes more than $15 million raised for COVID-19 research and testing.
In these unsettled times, it helps to have an understanding of the role of philanthropy in addressing the campus's fiscal health. While fundraising increasingly supports the core elements of Berkeley's excellence — our students and faculty through scholarships and fellowships, endowed faculty chairs, and research and program funds — philanthropy by itself is not a cure for all that ails our operating budget. Most gifts, for example, are restricted to specific areas designated by donors. Similarly, endowed funds are designed to provide a long-term, reliable source of funding rather than immediate support, and are strictly governed by individual gift agreements that set the terms for each of the programs funded and are thus not available to provide direct budget relief.
Our resilience as a community has seen us through tremendous challenges before, and I have no doubt that we will find opportunities to address the challenges we are facing as a campus and as a society. Our students, our faculty, our staff, and you have all shown me time and again that Berkeley is resilient. And your support, evident by these record-breaking fundraising totals, serves to inspire us all.
I look forward to working together with you in the months ahead, achieving greater heights for our university.
Fiat Lux!